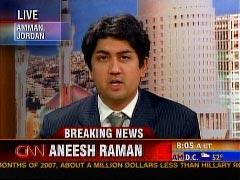 Aneesh Raman, formerly an international correspondent for CNN left the network in June to "try something different."
Little did we know that by "different" he meant working for Barack Obama's messaging shop sending out emails.
At least Raman has finally admitted his bias, though. He's quite different from many of his former colleagues at CNN who are registered to vote as Democrats but fail to disclose this fact to viewers.
Raman is hardly the first prominent television journalist to go work for Democrats this year. In May, ABC reporter Linda Douglass joined up to work as a strategist and spokesman.
A third journalist, ABC News anchor Carole Simpson signed up with the Hillary Clinton campaign during the Democratic primaries.
Currently working for the Obama campaign is Kate Albright-Hanna, a former CNN producer who pitched her services to Obama in 1999 while she was still working at the network.
Also on the Obama team is Jane Pauley, former NBC "Today" and "Dateline" host. She has been campaigning this week on the Illinois's senator's behalf in Indiana--to little effect it turns out, since only 8 people showed up for her  Aug. 22 stop in Indianapolis.