On Tuesday, far-left weekend MSNBC anchor Joy Reid took to Twitter to conduct an informal poll on whether Republican Senate Majority Leader Mitch McConnell had "credibility." This is the same Joy Reid who falsely claimed in 2018 that offensive past posts on her now-defunct blog were caused by hacking.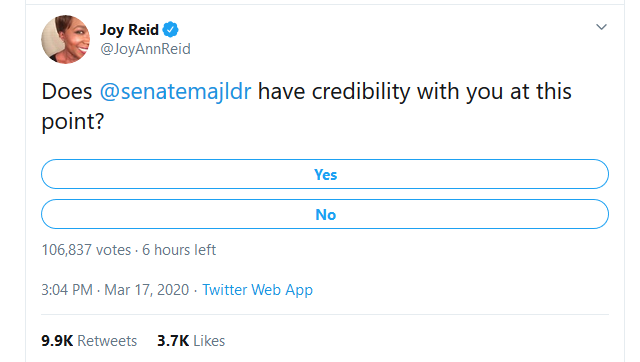 "Does @senatemajldr have credibility with you at this point?," Reid asked her social media followers as the Senate worked to pass coronavirus relief legislation. She was predictably dunked on by Twitter users pointing out the MSNBC host's own stunning lack of credibility:
Following Reid's scandal, in June of 2018, The Washington Post's Erik Wemple pointed out that the controversy swirling around her meant "MSNBC now has nine hours per week with big credibility problems," joining the left-wing cable channel's other truth-challenged hosts like Brian Williams.
Reid has not hesitated to shamelessly politicize the coronavirus pandemic. On March 11, she dishonestly claimed President Trump had called the virus "a hoax" and gloated that the crisis was "once again laying bear Donald Trump's glaring inadequacies as President."
On March 7, she launched into a unhinged rant in which she claimed Trump supporters – and their children – would be responsible for the spread of the disease:
These people, who believe Trump over facts, over science, over anything, but him. His Twitter feed, that's the truth to them. These are people you go to work with, that you ride the bus with, they're the parents of your children's classmates....Trump supporters, who God love 'em, they believe anything that Donald Trump says. So you may have people who are willfully refusing to check that sniffle because they think it's not true....And they still go to school with your kids.
Once again, this is the person who claims to be arbiter of other people's credibility.