Every slight is sexist, racist, homophobic, you name it, in the eyes of liberals. Case in point, the media's overblown response to Donald Trump shushing NBC reporter Katy Tur during Wednesday morning's press conference. Journalists on Twitter were aghast that Trump dared to interrupt a relentless reporter, while MSNBC's Tamron Hall likened the exchange to overt sexism, in the age of the first female presidential nominee.
During a press conference this morning, NBC's Katy Tur, who had been asking multiple questions throughout, was shushed by Donald Trump at one point for continuing to press her question after he briefly answered it then shifted the focus to Hillary Clinton.
"Be quiet" he said mid-sentence to Tur as she kept repeating her question while he was still answering it. Social media blew up at this rather insignificant slight of an aggressive reporter and MSNBC's Tamron Hall was no different, who got Tur on camera immediately at the press conference's end on The Place for Poltiics.
Hall led by informing Tur of the "stunning" outrage on Twitter to Trump telling her to "be quiet" and insinuated this was a sign of sexism:
HALL: [B]ut on the day after we saw 102-year-old woman on the floor applaud the first female nominated to a major party, there you are being told to 'be quiet' by the nominee.
"I'm not asking you to make this personal," Hall insisted repeatedly, (but isn't that exactly why she brought Tur on?) before she asked her to comment on the question she asked Trump.
What always fails to get brought up is that Trump is universally brusque to reporters regardless of gender and for MSNBC to make this about gender is intellectually dishonest but proof that the "war on women" card is clearly still being utilized in this election.
<<<Click on the image below to help us with your tax-deductible gift>>>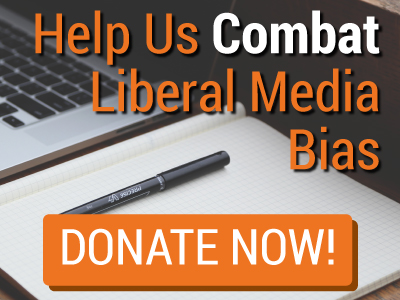 <<<Thank you for your support!>>>