On Wednesday night, White House Press Secretary Sarah Huckabee Sanders announced that CNN chief White House correspondent and top carnival barker Jim Acosta has had his credentials suspended (referred to as a "hard pass") following his latest circus act hours earlier with President.
As Acosta had likely hoped, it drew attention to himself and CNN, triggering over 20 minutes of CNN expressing its love for, well, CNN while showing its undeniably deep disdain for the President.
Bloomberg's Jennifer Jacobs noted that this means he'll be "den[ied] unescorted entry to the WH grounds."
In a series of tweets, Sanders released a lengthy statement: 
President Trump believes in a free press and expects and welcomes tough questions of him and his Administration. We will, however, never tolerate a reporter placing his hands on a young woman just trying to do her job as a White House intern. This conduct is absolutely unacceptable. It is also completely disrespectful to the reporter's colleagues not to allow them an opportunity to ask a question. President Trump has given the press more access than any President in history. Contrary to CNN's assertions there is no greater demonstration of the President's support for a free press than the event he held today. Only they would attack the President for not supporting a free press in the midst of him taking 68 questions from 35 different reporters over the course of 1.5 hours including several from the reporter in question. The fact that CNN is proud of the way their employee behaved is not only disgusting, it's an example of their outrageous disregard for everyone, including young women, who work in this Administration. As a result of today's incident, the White House is suspending the hard pass of the reporter involved until further notice.
He also responded to Sanders's statement in tweet in which he simply wrote: "This is a lie."
Acosta and a few of his fellow journalists reacted to the news with tweets of their own (note that this will be updated as more reactions come in):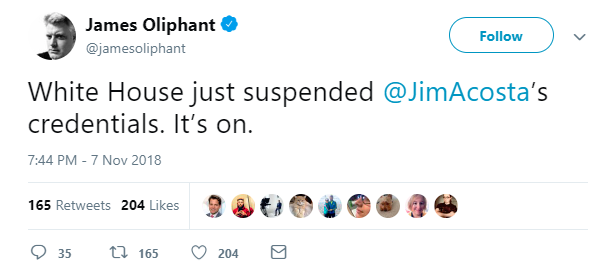 Trying to get back into the White House for a scheduled live shot for AC360 in the 8:00 p.m. Eastern hour, Acosta tweeted video of him being denied entry:
The US Secret Service just asked for my credential to enter the WH. As I told the officer, I don't blame him. I know he's just doing his job. (Sorry this video is not rightside up) pic.twitter.com/juQeuj3B9R

— Jim Acosta (@Acosta) November 8, 2018
NewsBusters has chronicled a litany of instances in which Acosta sought to make himself the story, frequently fighting with both Trump in press availabilities (see here, here, here, here, here, and here) but routine White House Press Briefings with Sanders.
After years of back-and-forth jousting, this feud came to quite the head Wednesday night and will certainly reverberate across the political universe. And without a doubt, CNN will seek to make this about, well, CNN.