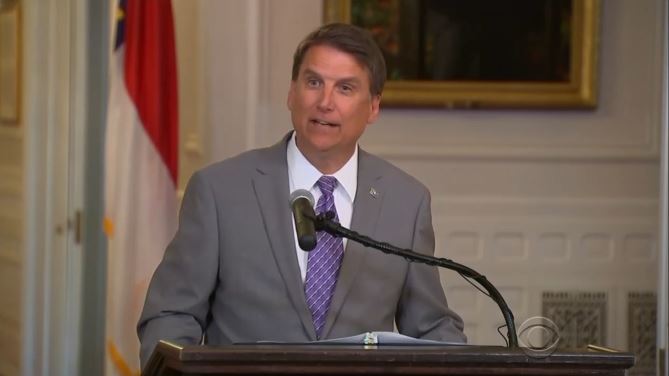 Like a tried and true liberal lapdog, the North Carolina media have applied a full-court press (pun intended) to attack Republican Governor Pat McCrory over the transgender bathroom law to the point that the leftist site Politifact hounded McCrory over a general statement that the pro-gay Human Rights Campaign (HRC) is both powerful and full of secret donors.
In its most recent fact-check, the site that claims to have embraced nothing but the facts deemed McCrory's statement "mostly false" because HRC lists its corporate donors in three categories with no dollar figures but not its other donors (aside from its PAC, which is legally required to for donations over $200).
"One of Gov. Pat McCrory's talking points during his many interviews on HB2, the controversial new state law, is that the pro-LGBT group Human Rights Campaign is an immensely powerful group that's stifling debate," writer Will Doran stated in the Politifact story (in conjunction with the Raleigh News & Observer).
Hitting it as a "familiar refrain," Doran only then showed the full quote from an interview McCrory gave:
The Human Rights Campaign "is probably the most powerful special interest group out of Washington, D.C.," McCrory said in the interview, with Charlotte station WBT. "And it's funded – their funders? We don't know who funds them, but they have about $32 million a year."
Digging into who funds HRC, Doran correctly noted that there's a distinction between HRC and its PAC since the latter must disclose to the Federal Election Commission (FEC) "not only the names of every major donor but also how much they gave, where they live and what they do."
However, when it comes to the corporate donors for the non-PAC side, Doran showed his true colors of carrying HRC's water by touting their "a menagerie of supporters" ranging from Northrop Grumman to Starbucks grouped in three levels that provide no dollar amount whatsoever aside from a grand total between the three of $37.4 million. 
In the end, Doran dubbed McCrory's statement "mostly false" even though he explicitly admitted in the post that "we don't know the identity of the majority of the donors" and, more broadly, "we don't know how much they [donors] gave."
Since the post, The News & Observer produced a story proudly touting the HRC's demands that the Federal Aviation Administration (FAA) pull all federal funding from the state's airports over the transgender bathroom law.
Politifact's slant against McCrory with The News & Observer can also be looked at from a purely statistical standpoint as since March 14, the site has done nine "fact-checks" of statements McCrory has made versus only one for Roy Cooper, who happens to be both the Democratic Attorney General and McCrory's opponent the November gubentatorial election.
Naturally, the lone Cooper statement Politifact examined concluded it was "mostly true" while McCrory only had one of his nine posts judged to be "true."