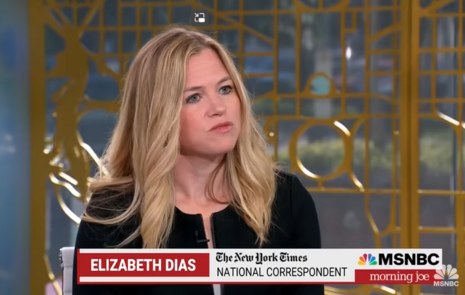 The New York Times did some more 2022 campaigning for the Democratic Party on Saturday's front-page, above-the-fold story by Elizabeth Dias, the paper's "faith and politics" reporter: "On Far Right, Devout Efforts To Get Elected."
The online headline deck really brought the reporter's revulsion home to the paper's skittish liberal readership: "The Far-Right Christian Quest for Power: 'We Are Seeing Them Emboldened' -- Political candidates on the fringe mix religious fervor with conspiracy theories, even calling for the end of the separation of church and state."
Dias began in Pennsylvania with controversial Republican gubernatorial candidate Doug Mastriano.
Three weeks before he won the Republican nomination for Pennsylvania governor, Doug Mastriano stood beside a three-foot-tall painted eagle statue and declared the power of God.

"Any free people in the house here? Did Jesus set you free?" he asked, revving up the dozens before him on a Saturday afternoon at a Gettysburg roadside hotel.

Mr. Mastriano, a state senator, retired Army colonel and prominent figure in former President Donald J. Trump's futile efforts to overturn the state's 2020 election results, was addressing a far-right conference that mixed Christian beliefs with conspiracy theories, called Patriots Arise. Instead of focusing on issues like taxes, gas prices or abortion policy, he wove a story about what he saw as the true Christian identity of the nation, and how it was time, together, for Christians to reclaim political power.
If Mastriano is so dangerous, isn't it irresponsible for Democrats to be elevating his campaign with expensive television ads, thinking he would be easier to defeat in the general election? (h/t Tim Graham)
Dias projected Mastriano's views onto mainstream conservative Christianity as a whole, including popular stands regarding classroom instruction on gender. Besides the overturning of Roe v Wade, she noted that:
....A Florida law prohibits classroom instruction about sexual orientation and gender identity in early elementary school, and Texas has issued an order to investigate parents with transgender children for possible child abuse.
She warned:
Like Mr. Mastriano, some of the candidates pushing that marginal view already hold lower-level elected positions but are now running for higher office where they would have more power, said Andrew Seidel, a vice president of Americans United for Separation of Church and State.
And how are those candidates doing state to state? They're mostly losing, though those results are downplayed by Dias, perhaps to make the right-wing fringe appear more threatening. Dias accused "Christian nationalism" of having "encompassed extremist ideologies" in the past, making a Nazi link based on a fringe party nomination from 74 years ago, and in turn bringing in Donald Trump.
Mr. Trump gained power in large part by offering to preserve the influence of white evangelicals and their values....
Dias hopped around to connect dots of Christian identity extremism. We learn "A sense of religious grievance is deepening in the ultraconservative wing of the Southern Baptist Convention," and that ideological metaphors of guillotines and swords are disturbing, at least when employed by the right. (This is the same paper that glossed over non-metaphorical left-wing violence in the form of summer 2020's BLM riots, as well as the attempted assassination of Justice Brett Kavanaugh.)