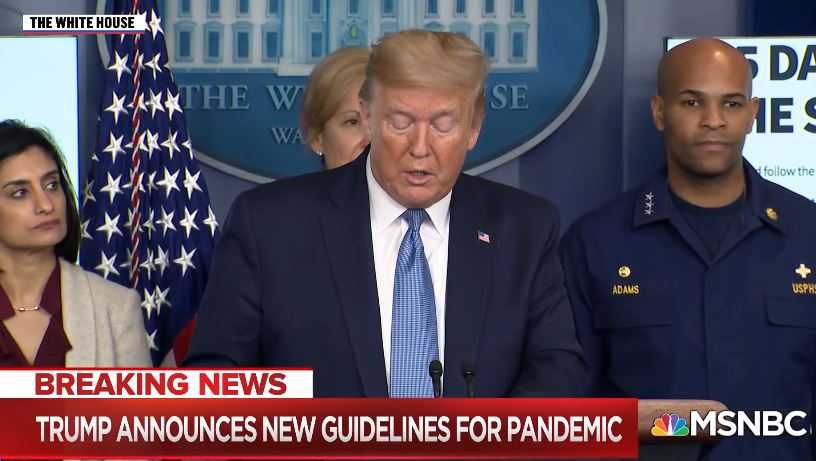 The New York Times will fault President Trump on the coronavirus no matter what he does or does not do, as starkly evident in Tuesday's lead story by Katie Rogers and Emily Cochrane criticizing him for taking insufficient measures: "Short of Mandate for Limits That Other Nations Enacted."
President Trump, under pressure to take more significant steps to slow the spreading coronavirus, recommended on Monday that Americans stop unnecessary travel and avoid bars, restaurants and groups of more than 10 people, as he warned that the outbreak could extend well into the summer.

The national guidelines, which also advise home-schooling and the curtailing of visits to nursing homes and long-term care facilities, are the most robust response so far from the Trump administration. But the guidelines, which officials described as a trial set, are not mandatory and fall short of a national quarantine and internal travel restrictions, which many health officials had urged.

And they do not reflect the urgency of actions taken around the world as governments in Italy, France, Spain and elsewhere began imposing stringent lockdowns on citizens. Even within the United States, local governments were imposing shelter-at-home orders and police-enforced quarantine zones.
Yet days earlier, the Times faulted Trump for excessive, unilateral measures to mitigate the spread: "Chaos in Europe, and Anger, Over U.S. Travel Ban to Curb Coronavirus." Reporter Norimitsu Onishi harrumphed:
From airports and government offices to company boardrooms and stock exchange floors, turmoil and anger spread across Europe on Thursday after President Trump abruptly blocked most visitors from the Continent to the United States to curb the spread of the coronavirus.
David Sanger huffed: 
President Trump's 30-day suspension of all entry into the United States for most Europeans...accelerates his long-brewing divorce from many of America's traditional allies.
Is anyone out there still criticizing the now-ubiquitous travel bans or blaming Trump for moving early on the threat?
(Co-author Rogers last week spent precious news space lecturing readers about how the accurate description of "Wuhan Virus" was racist, despite her own paper using the formulation.)
The paper even used the coronavirus to crusade against its "inequality" obsession: "As Coronavirus Deepens Inequality, Inequality Worsens Its Spread -- The pandemic is widening social and economic divisions that also make the virus deadlier, a self-reinforcing cycle that experts warn could have consequences for years to come."
"The Interpreter" columnists Max Fisher and Emma Bubola used their supposed explanatory perch to compare the deadly virus with income inequality.
As the coronavirus spreads across the globe, it appears to be setting off a devastating feedback loop with another of the gravest forces of our time: economic inequality.

In societies where the virus hits, it is deepening the consequences of inequality, pushing many of the burdens onto the losers of today's polarized economies and labor markets. Research suggests that those in lower economic strata are likelier to catch the disease.