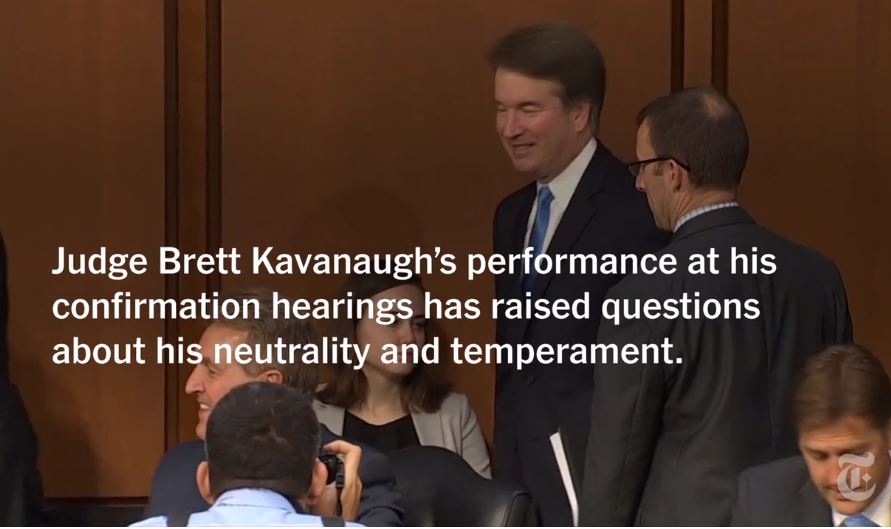 Liberal media petulance and bitterness was evident on the front page of Sunday's New York Times after the Senate narrowly confirmed Judge Brett Kavanaugh to the Supreme Court. Reporters Peter Baker and Nicholas Fandos reported "A Nomination Is Rescued by a Display of Rage and Resentment."
Because how dare someone get angry over being accused of sexual assault.
Judge Brett M. Kavanaugh sat in the anteroom of Room 216 in the Hart Senate Office Building, a sterile, living-room-like space with a couch and a couple of armchairs and a large television on the wall. His chances of joining the Supreme Court seemed to be vanishing. "Disaster," read the text message from one Republican.
White House counsel Donald McGahn suggested Kavanaugh "channel his outrage and indignation at the charges he had denied."
Judge Kavanaugh did not need convincing. He was brimming with rage and resentment, so when he went before the Senate Judiciary Committee, he did not hold back. His fire-and-fury performance -- "you have replaced 'advice and consent' with search and destroy" -- suddenly turned the tables. While Democrats thought he went too far, demoralized Republicans were emboldened again. In their war room, White House aides watching on television cheered and pumped their fists.

The 90-day battle to install Judge Kavanaugh on the Supreme Court that ended on Saturday with a razor-thin 50-to-48 vote proved to be the most dramatic confirmation fight in a quarter-century, a showdown of epic proportions that tested a president, drove a wedge through the Senate, gripped the nation, touched off emotional protests and exposed the dark corners of America's struggle with sex and power.

At stake was nothing less than all three branches of government. In replacing Justice Anthony M. Kennedy, for years the Supreme Court's swing vote, Judge Kavanaugh will almost surely move the high court to the right. A backlash among Democratic voters, however, may move Congress to the left in midterm elections just four weeks away....

....

But the Republican determination despite the charges left raw feelings that will not dissipate soon. "They are just blasting through one rule and one tradition after another," said Senator Richard J. Durbin of Illinois, the Democratic whip. "If that does not change, it is going to be hard to repair the institutional damage here."
The Times did a synopsis of the turmoil after Christine Todd Blasey's story came out, and then nailed how the radioactive "porn lawyer" Michael Avenatti may have diluted the Democratic argument, while showing how his client's arguments didn't seem to add up.
The Republican senators got into a lengthy conversation about Mr. Avenatti and how he could not be trusted and concluded that Ms. Swetnick's claims did not add up. Why would she as a college student repeatedly go to high school parties where young women were gang raped? No one came forward to corroborate the allegation, and news reports surfaced about past lawsuits in which Ms. Swetnick's truthfulness was questioned.
Republicans were wilting after Blasey's September 27 testimony, but...
....Judge Kavanaugh's angry outburst rallied Republicans. He went so far in expressing rage that he blamed the allegations on a plot to take "revenge on behalf of the Clintons" and he sharply challenged two of the Democratic senators about their own drinking. During a break, Mr. McGahn told him he had to dial it back and strike a calmer tone. When he returned to the committee room, Judge Kavanaugh moderated his anger and apologized to one of the senators.
This paragraph was particularly partisan.
When Mr. Durbin asked Judge Kavanaugh to turn around and ask Mr. McGahn to request an F.B.I. investigation into the charges against him, Mr. Graham erupted in a ferocious, finger-wagging lecture. Other Republican senators began channeling their inner Trump and lashing out on Judge Kavanaugh's behalf as well.
They concluded by hinting that the left will continue to try and sabotage Kavanaugh and the work of the newly conservative-leaning Supreme Court:
Justice Kavanaugh will report to work in the building behind them on Monday, his fate settled but the battle still not settled at all.