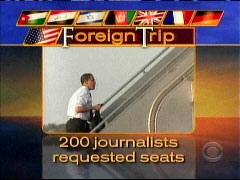 "Voters overwhelmingly believe that the media wants Barack Obama to win the presidential election," a Pew Research Center for the People and the Press survey released Wednesday discovered. Specifically: "By a margin of 70%-9%, Americans say most journalists want to see Obama, not John McCain, win on Nov. 4. Another 8% say journalists don't favor either candidate, and 13% say they don't know which candidate most reporters support."
The question (PDF of questionnaire): "Who do you think most newspaper reporters and TV journalists want to see win the presidential election -- Barack Obama or John McCain?" Unsurprisingly, 90 percent of Republicans recognized how journalists hope Obama is victorious, yet so did 62 percent of Democrats and independents.

Pew noted how "in recent presidential campaigns, voters repeatedly have said they thought journalists favored the Democratic candidate over the Republican," but "this year's margin is particularly wide." By comparison:
At this stage of the 2004 campaign, 50% of voters said most journalists wanted to see John Kerry win the election, while 22% said most journalists favored George Bush. In October 2000, 47% of voters said journalists wanted to see Al Gore win and 23% said most journalists wanted Bush to win. In 1996, 59% said journalists were pulling for Bill Clinton.

This year, by party affiliation:
In the current campaign, Republicans, Democrats and independents all feel that the media wants to see Obama win the election. Republicans are almost unanimous in their opinion: 90% of GOP voters say most journalists are pulling for Obama. More than six-in-ten Democratic and independent voters (62% each) say the same.
The survey of about 900 registered voters was conducted October 17-20.
A Pew Research Center for People and the Press survey released in June found those polled saw a pro-Obama tilt to coverage. My June 6 NewsBusters item, "Many Recognize Media's Pro-Obama Bias, Democrats Prefer CNN," recounted:
"Far more Americans believe that the press coverage has favored Barack Obama than think it has favored Hillary Clinton," a just-released survey, from the Pew Research Center for the People and the Press, discovered in determining 37 percent recognize a bias in favor of Obama. Even 35 percent of Democrats "see a pro-Obama bias" compared to 45 percent of Republicans and 40 percnt of independents.

The poll, of about 1,000 Americans taken in late May, found about the same percentage of Republicans and Democrats rely on MSNBC for campaign news, but: "Far more Republicans (24%) than Democrats (10%) get most of their campaign news from Fox [News Channel], while the opposite is true for CNN: 24% of Democrats look to CNN compared with just 13% of Republicans."
For many more polls on how the public sees the news media, check the "
How the Public Views the Media
" section of the MRC's
Media Bias Basics
.