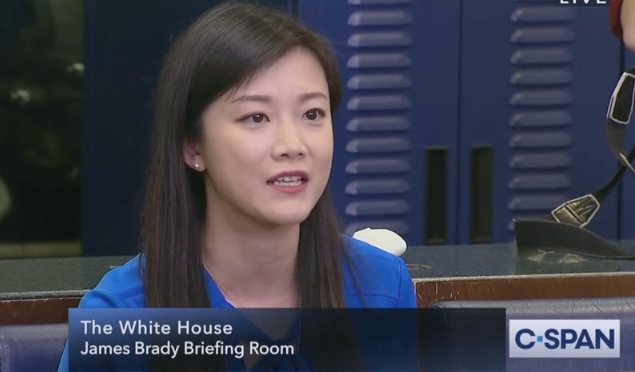 If history is a guide, a media star was born in Monday's White House press briefing.
Just a week after conservative outlet One America News was kicked out of the press room for "violating social-distancing" rules, Phoenix TV, a Hong Kong-based Chinese language news network, somehow had a reporter there. She got to knock out some ChiCom talking points in a "question" for President Trump.
She touted all the masks and medical supplies China has shipped to the U.S. She then demanded to know if the president would work "directly" with the PRC. "Are you cooperating with China?"
"Who are you working for, China?" the president asked. "Who are you with?" "Who owns that? China?" he asked about Phoenix.
"It's based in Hong Kong ... It's a privately owned company."
Noting the exchange, The Huffington Post declared that Trump is being mean to reporters -- especially "women of color." A lazy and stupid charge at most times, it's spectacularly beside the point here. Why? because Phoenix isn't exactly what the reporter said it is.
According to the Daily Caller, "The Hoover Institution regards it as a 'quasi-official' news outlet with links to the Chinese government's ministry of state security, and that "Freedom House, a pro-democracy think tank, said in a 2017 report that Phoenix TV is owned by a former Chinese military officer with close ties to Beijing officials."
And get this: "It has been used as an outlet for airing televised confessions by various detained CCP critics, most notably all five Hong Kong booksellers abducted by Chinese security forces in late 2015."
Wow, combine that with willingness to grandstand and put Trump on the spot and you've got a new media crush right out of central casting! It's been a lonely time for our love-lorn elite since al Jazeera in all its permutations turned out to be a disappointment. Maybe Phoenix can salve the wounds.
Few remember the swashbuckling figure AJ cut; an exotic outlet with shady funding and an unapologetically anti-American bent -- like MSNBC with personality. It was the original bad boy -- Phoenix and its dissident confessions has nothing on The Beheading Channel.
In 2011, none other than CNN's Brian Stelter -- then just a young tuber writing about media for the New York Times -- described how a "sense of mission -- and of opportunity -- permeates the Al Jazeera compound on the outskirts of Doha," and wrote that, "Many observers believe that by televising the uprisings, Al Jazeera is influencing them -- and tilting the Middle East toward a version of democracy in the process."
Old media was smitten with AJ and its al Jazeera English and al Jazeera America offspring (not since George Foreman has there been a parent so unimaginative with names.) That's mostly because it earned the ire of the Bush administration for carrying water for al Queda in Iraq. But also made few pretenses about who it was.
"Yes, the network has a point of view – its coverage tends to be skeptical both of non-democratic rulers in the Middle East and North Africa, and of American involvement in the region," editorialized the Boston Globe (one of Al Jazeera English's most fawning supporters) in 2011. "But many Americans share this same viewpoint, and even for those who don't the network can be deeply informative."
The Important and Serious Journalists and Academics at Columbia University's Graduate School of Journalism gave AJE its highest honor, the Columbia Journalism Award for "singular journalism in the public interest."
In other words, the supposedly neutral mainstream western media is celebrating Al Jazeera for its activism, not its journalism. Now that makes sense.
By the time AJA was starting up in 2014, only Stelter's dry-cleaner knew how super excited he was. He was especially enthused that AJA "wants to be American through and through," and is "aiming to have virtually all of its programming originate from the United States."
"Al Jazeera," Stelter said, "is coming to America to supply old-fashioned, boots-on-the-ground news coverage to a country that doesn't have enough of it." And it was being stocked with the right sort of people. "New employees are being added to the rolls every weekday from places like CNN, 'Frontline' and Time magazine," according to Stelter.
There's nothing so embarrassing as reading old love letters -- especially when the smitten have a demonstrably terrible taste in lovers ("Michael Avanatti report to the warden's office.") And Phoenix TV may be about to receive a whole lot of purple prose from excited suitors.