The new Charlie Gard hearing could make the difference between life or death for the 11-month-old. His parents, in their fight for him against his hospital and U.K. courts, have won the support of world leaders as well as U.S. medical experts. But instead of covering the infant's hearing Friday, the networks prioritized the "highly anticipated" photo of pop singer Beyoncé's twins.
If they can cover those babies, why not this baby too?
On Thursday, Judge Nicholas Francis of London's High Court revisited the case of British infant Charlie Gard in light of "new evidence." That morning, as the hearing began, ABC mentioned the hearing once. CBS and NBC said nothing. By Friday morning, as the hearing continued, even ABC had forgotten all about little Charlie. Instead, all three networks covered Beyoncé's twins.
For the hearing, Charlie's parents, Chris Gard and Connie Yates, were allowed two days to compile the evidence to persuade the court that their son should stay alive in order to receive experimental treatment. They accomplished their mission: Although they walked out after the judge misconstrued their words, one U.S. doctor testified that treatment could provide Charlie with "meaningful improvement."
As an infant, Charlie was diagnosed with a rare genetic condition, mitochondrial DNA depletion syndrome, and could be removed from life support any day. While America's major networks initially kept quiet on Charlie's story, the President Donald Trump's tweet of support changed that – pushing the story into a national spotlight.
But, once again, the network news shows are proving reluctant to cover Charlie – and the hearing that could save his life.
Of the three broadcast networks, only one reported on the hearing with one single report. That report came from ABC.
On Thursday, during Good Morning America, ABC co-host George Stephanopoulos introduced the "major developments in the fight to save baby Charlie Gard."
From there, foreign correspondent James Longman detailed the "dramatic day in court" with "Charlie's parents storming out after disagreeing with something the judge said."
"Doctors here say keeping him alive just extends his pain," Longman said. "The judge has made it clear that isn't an appeal. He'll be looking for fresh evidence that proves that Charlie can be significantly helped by this treatment."
Longman also acknowledged "video evidence this afternoon will be presented by a professor in the United States" – although his network never followed up on that evidence in later news shows.
Wrapping up his report, Longman ended with a jab at the pro-life leaders, who have been championing Charlie's cause in the United States.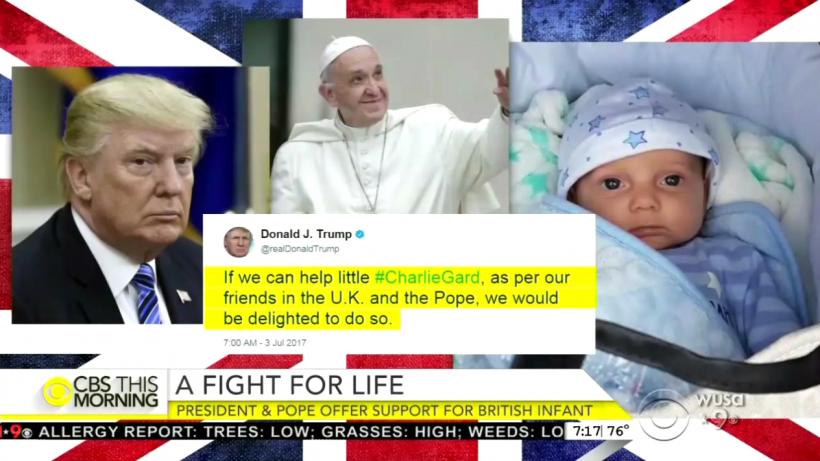 "A controversial U.S. pastor has flown in especially. Pro-life campaigners, though, have been criticized for politicizing this whole issue," Longman concluded, likely referencing Rev. Patrick Mahoney. "Ultimately though, this is a legal issue and it will need be to decided in the courts."
That mention amounted to one minute, 25 seconds. The very next day, as the hearing continued, the morning news shows said nothing of Charlie. But each and every one of them reported on Beyoncé posting the first picture of her one-month-old twins to Instagram.
During the Friday morning news shows, ABC spent 50 seconds on the "baby bombshell," CBS devoted 54 seconds to the "highly anticipated photo" and NBC gave a whopping one minute and 29 seconds.
These are the blessedly healthy children of pop royalty. They will, we hope, live long and normal (if extraordinarily privileged) lives. Pop culture is inescapable, and we'll be updated with photos and news of the twins' lives – whether we want to be or not – for years to come.
But Charlie Gard isn't royalty of any kind. He's fighting for his life against the legal apparatus of the U.K. and the E.U. And he is running out of time. That the ABC, CBS and NBC are so quick to shove aside his story while cooing over Beyoncé's children speaks volumes about the networks and – worse – about society.
Spanish-Speaking Networks
In regards to little Charlie, the silence extends past the English-language networks.
"The principal evening newscasts of the nation's top two Spanish-language television networks, Univision and Telemundo, have also yet to inform their audiences of the issue," MRC Latino, a division of the Media Research Center, found Tuesday.
That didn't change until yesterday's hearing, when Univision spent a mere 24 seconds on the story with video of the parents, supporters of the parents and mention of support including both from Pope Francis and President Trump.
Methodology: MRC Culture and NewsBusters analysts watched the morning and evening news shows for coverage of Charlie Gard from the three broadcast networks (ABC, CBS and NBC), from Thursday morning, July 13, through Friday morning, July 14.