While the broadcast networks criticized Sunday's bombings targeting Christians, they still failed to condemn the terror attacks with one essential word: genocide.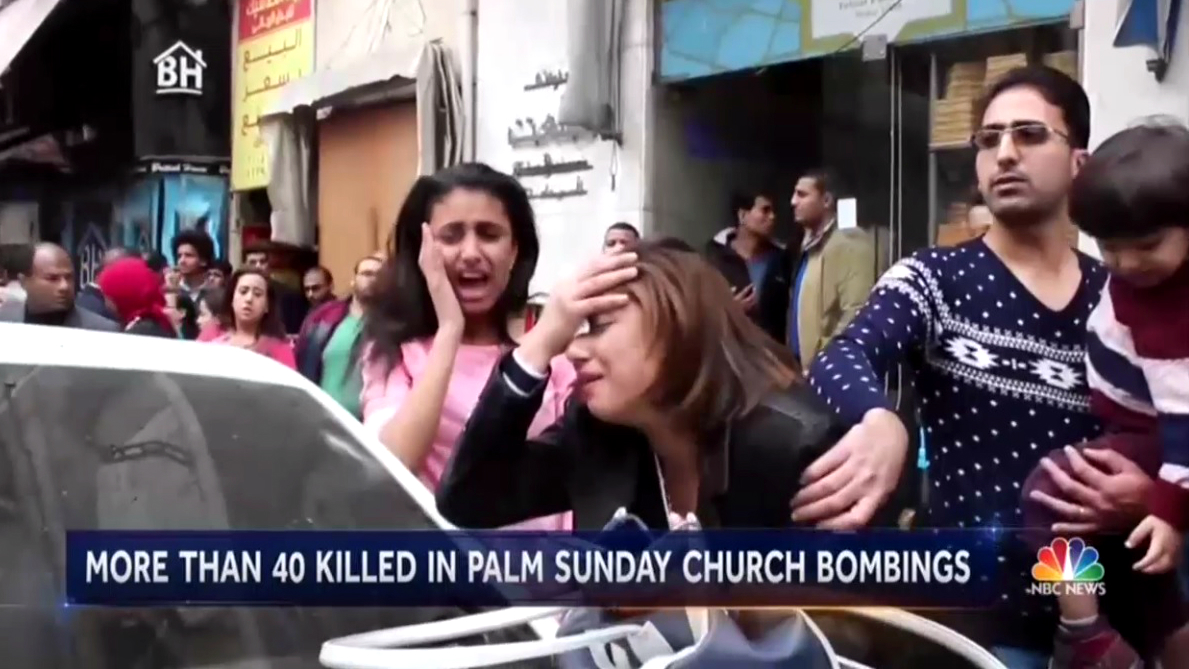 ISIS claimed responsibility for two church bombings in Egypt on Palm Sunday that targeted Coptic Christians. The attacks left at least 44 dead and more than 100 injured. While ABC, CBS and NBC covered the story in nine morning and evening news shows, they continued their past trend of refusing to say "genocide" in regards to ISIS. This comes after former Secretary of State John Kerry formally accused ISIS of genocide on March 17, 2016.
For NBC, host Matt Lauer reported on the Christian churches as "targets of terror" during Monday morning's Today. From there, London correspondent Kelly Cobiella noted the "deadliest day for Egypt's Christians in decades" with "pews stained with blood, parishioners in shock, many dead."
"Last December," she added, "a suicide bomber killed 28 at the Coptic cathedral in Cairo." But even though she noted a trend of Christian persecution, she kept silent on "genocide."
On Sunday's Nightly News, NBC correspondent Matt Bradley added that "ISIS quickly claimed responsibility for both attacks, fulfilling a pledge made in February to target Egyptian Christians" and that ISIS "attacks Christians with horrifying regularity."
But, again, no mention of genocide.
Sunday morning, foreign correspondent Lucy Kafanov elaborated on the "brazen daylight attacks."
"Egypt's Christian community has been the target of an ongoing campaign of violence by ISIS as well as other Islamist groups," she said. Still, no genocide reference.
CBS followed the same trend in language. During CBS This Morning on Monday, co-anchor Alex Wagner announced the State Department "condemning deadly terror attacks."
Correspondent Mark Phillips also offered his opinion on the latest attack – without saying genocide.
"Christians … have been frequent targets of Jihadi bombers, but this double attack seems to have had another motive besides mass murder," he insisted. "It seems designed to shake the strong man government of Abdel Fattah al-Sisi."
The morning before, on Sunday, correspondent Meg Oliver reported the news in regards to Pope Francis, saying "He condemned two Palm Sunday bombings." And, for CBS Evening News, western edition, correspondent Elaine Quijano called the attacks "deadly Palm Sunday bombings."
Like NBC and CBS, ABC also remained silent on "genocide."
On Monday, for Good Morning America, ABC anchor Robin Roberts introduced a full news segment on the "deadly terror attacks targeting two Christian churches."
Sunday evening, ABC anchor Tom Llamas opened World News Tonight with the "Holy Week terror" and the "pair of suicide blasts" before turning to foreign correspondent Alexander Marquardt. Marquardt described the scene as "bloodied floors and shattered pews mixed with the shock, tears and screams of worshippers."
While the networks reported on the breaking news beginning Sunday morning, not once did ABC utter "genocide."
Even for the Atlantic, research fellow Mokhtar Awad called the bombings part of a "clearly genocidal project for the region's minorities." But the networks couldn't do the same.
Similarly, last year, the networks refrained from using "genocide" following an Easter bombing in Pakistan targeting Christians – as well as in other reports of Christian persecution.
The networks have no excuse to avoid the term genocide.
Last year, Secretary of State John Kerry declared that, "in my judgment, Daesh is responsible for genocide against groups in areas under its control, including Yezidis, Christians, and Shia Muslims." Daesh stands for "al-Dawla al-Islamiya al-Iraq al-Sham" or Islamic State of Iraq and the Levant (ISIL/ISIS).
In August, the MRC found that, in the past two-and-half years, the broadcast network evening news shows (ABC, NBC, CBS) reported on the persecution of Christians in the Middle East, Africa and South Asia only 60 times. And of those 60 reports just six used the word "genocide."  
NBC broke its silence on genocide in September temporarily – but only after some "star power" intervened. Amal Clooney, married to actor George Clooney, championed the cause against the atrocities committed by ISIS in an exclusive with the network.
According to a 1948 United Nations document, genocide "means any of the following acts committed with intent to destroy, in whole or in part, a national, ethnical, racial or religious group" including killing, causing serious physical or mental harm, preventing births and kidnapping children.
Methodology: MRC Culture monitored the morning and evening news shows from the three broadcast networks (ABC, CBS and NBC) from the morning of April 9, 2017 through the morning of April 10, 2017.