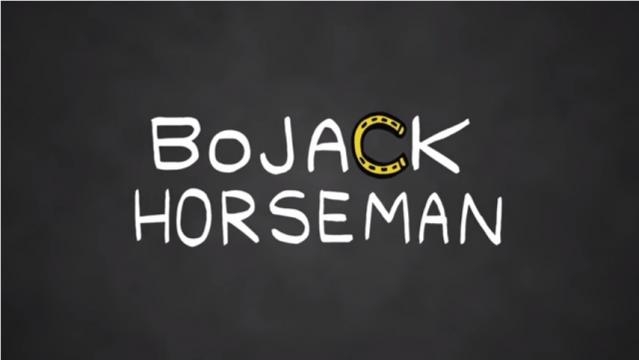 Season Four of Netflix's BoJack Horseman, the animated adult sitcom about a washed-up '90's television star, debuted on September 8th. The fantasy rich series focuses on hot button issues, including fracking and mass shootings this season.
In episode one, titled "See Mr. Peanutbutter Run", Mr. Peanutbutter (voice of Paul F. Tompkins), a yellow Labrador Retriever, decides to run for governor of California. He challenges the current governor, a woodchuck, and he intends to rely on his celebrity status as a former sitcom star with a lovable personality. By episode three, titled "Hooray! Todd Episode!", one problem presents itself in his entry into politics - he has no opinion on important issues – like fracking. His wife, Diane Nguyen (voice of Alison Brie), a feminist and activist writer who penned an anti-fracking manifesto for the click-bait reliant website she works for, decides to swallow her concerns and support her husband. A poll is commissioned and the candidate delivers a campaign speech without taking a stand one way or the other while he awaits its results. About the same time, Todd (voice of Aaron Paul), his campaign worker and good-hearted friend, accidently has the candidate sign a pro-fracking letter.
In episode four, "Commence Fracking", Diane's anti-fracking screed is published and in it includes a challenge – would a supportive advocate allow fracking in his own backyard? A debunked myth about flames shooting out of kitchen faucets was included for dramatic effect. Mr. Peanutbutter allows fracking to take place in their yard. By episode seven, "Underground", Mr. Peanutbutter and Diane's house collapses into a gigantic sinkhole during a campaign fundraiser, which is blamed on fracking. Overreach, much?
The over-exaggeration of mass shootings was presented in episode five, titled "Thoughts and Prayers". That expression, thoughts and prayers, became a rote line expressed throughout the episode in an odd way – without any emotion, just robotically expressed by those obviously thinking it is the thing to say in tragedies. Princess Carolyn (voice of Amy Sedaris) frets that a mass shooting in a Tampa mall will derail the movie premiere of Ms Taken, the latest in female empowerment action flicks. Courtney Portnoy (voice of Sharon Horgan), Todd's fake girlfriend, is the movie's heroine. The movie features a mass shooting in a mall. The movie executive ironically states, "I am sick and tired of real life gun violence getting in the way of us telling stories that glamorize gun violence." Ugh.
So, Princess Carolyn asks Diane to write a favorable article about Courtney and the movie. While meeting with her, Courtney scares off a bad guy with her gun, which shocks Diane. She holds Courtney's gun and says, "It actually feels kind of nice." Courtney takes her to a gun range and Diane learns to shoot. Low and behold, a new gun rights supporter is born! Diane bursts out of her liberal anti-gun bias and now understands that the Second Amendment is about self-protection. She feels safe and promotes conceal carry for women, as she writes an article explaining why she owns a gun. I say, welcome to the real world, Diane.
While this episode progresses, other mass shootings are reported as news alerts. After a woman is reported to be a mass shooter in Tulsa, suddenly men are alarmed that women are using guns. "Even one death from a female gun owner is one too many." A gun control debate is aired in the California state legislature. Diane becomes a part of the debate as the men decide to vote on just banning all guns in California. The overreach is voted on and passes. Diane laments, "I can't believe this country hates women more than it hates guns." Oh, boy.
Season Four isn't so much about BoJack (voice of Will Arnett) as it is the other characters. Hollyhock (voice of Aparna Nancherla) is introduced as his daughter but turns out to be his sister – the child of their father's affair with the family maid. And, there is a tender storyline about Princess Carolyn's struggles to become a mom. Also, BoJack's mother, Beatrice Horseman (voice of Wendie Malick) lives with dementia. There is not a lack of topics to be explored, that's for sure.
This season ends with Mr. Peanutbutter and Diane perhaps at the end of their marriage, while BoJack realizes he is not as bad a horse as he thought. Things are looking up for the washed-up star as he signs a contract for a new show. Who knows what topics are left to exploit in a Season Five?