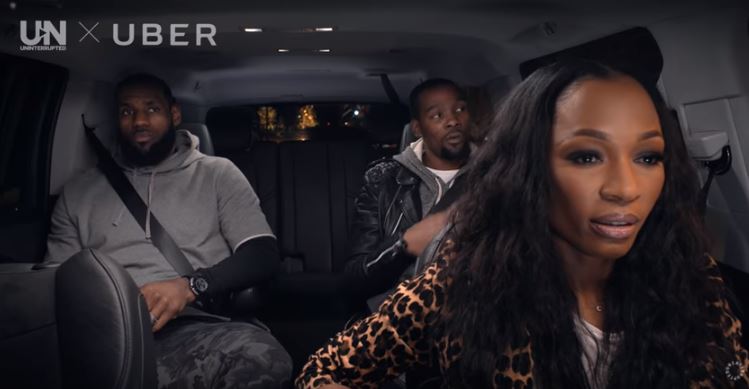 Prodded on by the approving ESPN SportsCenter host Cari Champion, LeBron James delivered his latest installment of attacks on President Trump today. The professional basketball star who tweeted the unprofessional message "u bum" to the president last year, uses his Uninterrupted internet forum to blast Trump as someone who "really don't give a f--- about the people." Zachary Ripple, online sports editor for The New York Daily News, gave James more mileage by posting the video on his site along with a short story.
This episode of Uninterrupted, titled "Rolling with the Champion: LeBron James and Kevin Durant," features Champion interviewing both pro basketball stars while she's driving a car around James' hometown of Akron, Ohio. Driving past his old high school and other locations, she opens the door for James with a loaded question:
"We cannot deny that we are very divided, especially in the political arena. How would you describe the climate for an athlete who has a platform now days that wants to talk about what's happening in our world?"
James eagerly walked right through that door:
"The climate is hot. The No. 1 job in America, the appointed person is someone who doesn't understand the people. And really don't give a f--- about the people. When I was growing up, there was like three jobs that you looked (to) for inspiration. It was the president of the United States, it was whoever was the best in sports and then it was like the greatest musician at the time. You never thought you could be them, but you can grab inspiration from them.

"With the president of the United States, it's at a bad time. While we cannot change what comes out of that man's mouth, we can continue to alert the people that watch us, that listen to us, 'This is not the way.' It's not even a surprise when he says something. It's like laughable. It's laughable and it's scary."
Champion agrees that it is laughable and says it's also scary because a person (like President Trump) shouldn't be known for his "racist comments" or his behavior." Not only do ESPN personalities go political on the Worldwide Leader in (Liberal) Sports, they also do it on other people's forums, like this one, or on social media. Jemele Hill and Katie Nolan have done it, too. One profaned the president and the other blasted him as a "white supremacist."
James said that, as a rich athlete, he's had the word "n****r" spray-painted on his California home, he's not removed from racism and " I still got a lot more work to do." That evidently includes vulgarly bad-mouthing someone he disagrees with rather than speaking as a clear-eyed voice of reason and as a true role model for young people.
Durant's words were not nearly as strong as James' comments, but he said: "I feel like our team as a country is not ran by a great coach." Durant said now that he's a member of the NBA champion Warriors he's on television more and says his voice is getting stronger and "more people wanna hear my voice now."
Durant is implying that those people don't want hear him discuss the pick 'n roll, but to speak out more on social justice issues. Which a lot of people also don't want to hear from athletes and sports media.