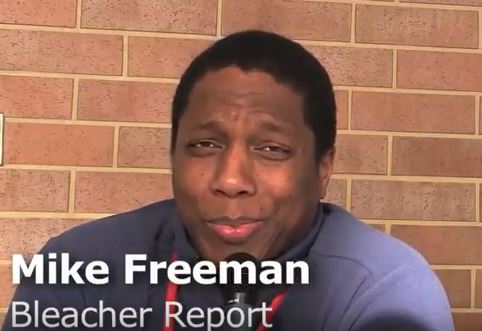 There's an old adage in sports that cheering from the press box is not allowed. However, the Bleacher Report's Mike Freeman is openly cheering for the NFL's power moves to appease left-wing special interest groups.
Freeman wrote the league has been in the toilet in some respects, but insists it is "undergoing a fairly serious transformation. There are still warts and faults, but there's also progress on fronts happening at speeds we haven't seen before."
While the league has been far behind the curve in dealing adequately with concussions and domestic violence, and by blackballing Colin Kaepernick, Freeman asserts, it is making progress by detouring into state laws that run afoul of LGBT interests, by literally inserting itself into public toilets:
The league fought North Carolina's infamous bathroom law known as House Bill 2, which required people to use the bathroom that reflects the gender on their birth certificate. The NFL opposed it.

The NFL also is fighting another such law, this time in Texas, by issuing what was almost a thinly veiled threat.
That threat by the NFL busybodies, to keep Super Bowls out of Texas if it passed a bathroom bill, was made in February. The legislative session ended without that bill being becoming law.
Freeman says he was told by NFL spokesman Brian McCarthy "that the NFL is prepared to withhold any future Super Bowls from being played in the state."
Texas Gov. Greg Abbott responded that the NFL "is walking on thin ice" and "needs to concentrate on playing football and get the heck out of politics. For some low-level NFL adviser to come out and say that they are going to micromanage and try to dictate to the state of Texas what types of policies we're going to pass in our state, that's unacceptable. We don't care what the NFL thinks and certainly what their political policies are."
Freeman stubbornly insists, "The NFL's opposition to the bathroom bills fits snugly with what have been bold overtures to the LGBTQ community in recent months, from the Patriots sponsoring a gay football event (which they have done before but is more attention-getting now since the team has such a pro-Donald Trump image) to the Rams also recently announcing sponsorship of a Venice gay pride event, among others."
By refusing to stick to football, the NFL is quietly "using its massive power in ways it never has before—positive ways," Freeman claims. "It's an effort that has stunned even the most cynical of team executives. Can the NFL be an altruistic force for once? Can it be—gulp—decent?"
This so-called sense of decency is obviously in the toilet, and the NFL ought to quickly flush its radical activism before alienating more of its fans.