Several journalists sprang up to defend Hollywood snowflakes from awards show host Ricky Gervais after he blasted the crowd at the 2020 Golden Globes during his opening monologue.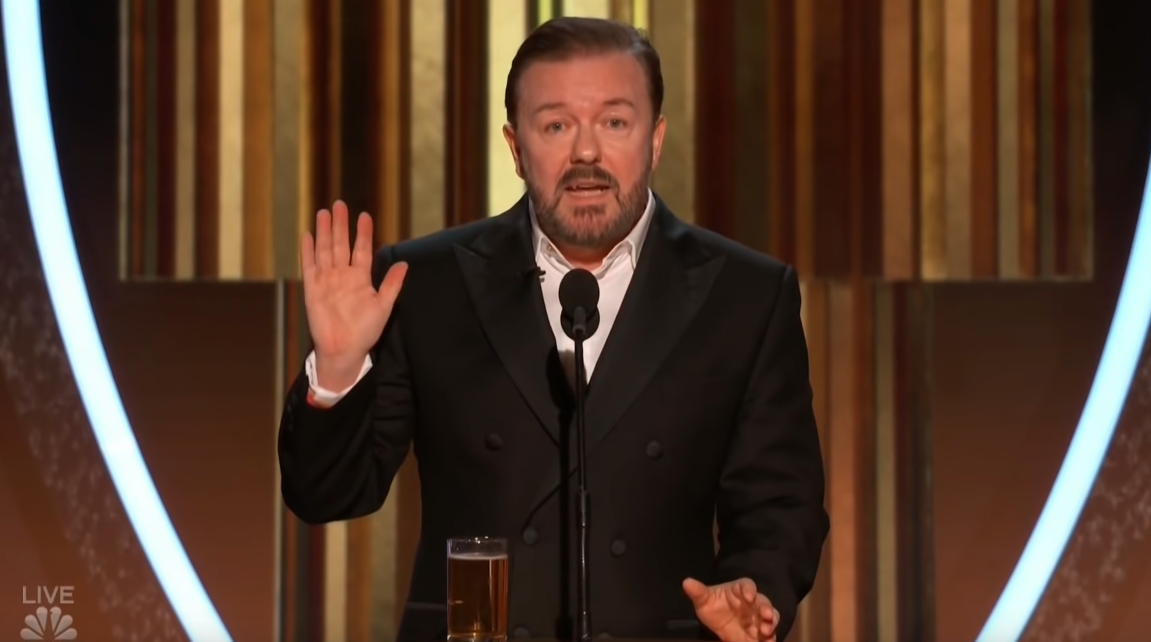 The U.K. comedian ribbed the wealthy movie-making elite with jokes about how out-of-touch and corrupt many of them are, and how they are "in no position to lecture the public on anything." Normal people watching found it hilarious and right on the money, however Hollywood apologists in the media wept for the sake of the celebrities.
Gervais' fifth time hosting awards promised to be a controversial outing, considering controversial is Gervais' usual shtick, and he had spent a chunk of 2019 combating the woke twitter crowd who called him "transphobic." Many were hoping for him to pushback while speaking in the belly of the progressive PC beast.
Stunned viewers got more than they bargained for when Gervais' opening speech blistered the glamorous attendees. He made jokes about their relationships with powerful sex offenders Harvey Weistein and Jeffrey Epstein and went the full nine in torching their political credibility.
If you do win an award tonight, don't make a political speech, right. You're in no position to lecture the public on anything. You know nothing about the real world. Most of you spent less time in school than Greta Thunberg, so if you win, come up, accept your little award, thank your agent and your god, and fuck off.
Several media members couldn't stomach the joke on behalf of Hollywood. Notably, L.A. Times reporter Lorraine Ali published a piece in her paper about the "Nihilism" of Gervais' "gloom and doom monologue" that was so "cynical" it made the "effervescent Tom Hanks scowl."
Though should we have just let them lecture us because that's the only thing that's endearing to their smug, elitist hearts? Well yes, according to Lorraine. The tweet she provided with the piece was even more pathetic. She complained:
The #GoldenGlobes mood was already sober thanks to an impeachment, threat of war with Iran and Australian bushfires. The last thing anyone needed was Ricky Gervais there, telling them they sucked.
First of all, Hollywood is overjoyed with Impeachment. The event was more popular than actual Christmas this year in their world. Second, if Hollywood is so dour about war with Iran, maybe they should stop sympathizing with the rogue terror regime. And as far as the bush fires go, it gave folks an opportunity to preach about climate change, something we know fosters a glint in many of these virtue signallers' eyes.
Even Best Actor winner (drama) for Joker, Joaquin Phoenix, scolded the crowd's need to preen their own ideological feathers without actually putting in the work. He rebuked them, saying, "it's great to vote but sometimes we have to take that responsibility on ourselves and make changes and sacrifices in our own lives." Phoenix pointed out that some of the assembled had flown to the Golden Globes on private jets.
Other sites like progressive haven Slate wrote about how big of a "jerk" Gervais was as host, claiming that though he speaks "truth to power" occasionally, much of the time he's "just, well, being kind of a dick." Hollywood outlet Deadline panned Gervais' performance, calling it "weakly cheeky rather than cutting." Sure. The outlet was just dissapointed that the host didn't say anything about "escalating tensions in the Middle East" or "Donald Trump."
If Hollywood's reigning actor gets it, maybe Ali and her friends should pause for reflection. Hollywood's full of hypocrites, and it might do better for everyone if they're told to their faces. Lefty media needs to get out of the way!