With the gubernatorial elections for the states of Virginia and New Jersey coming up on November 7, parties are arming themselves for the last campaign stretch. Washed up liberal celebrity were only too happy to volunteer for the job.
The extremely partisan effort to get citizens to vote used footage from the Charlottesville riot from August to get their message out: "say no to white supremacists." Comedienne Wanda Sykes and actor John Leguizamo joined forces to create a PSA for the Democratic candidate, Ralph Northam. Sykes called the Republican candidate, Ed Gillespie, "complicit" in Trump's "fail[ure] to condemn" white supremacy.
Other actors in Hollywood pushed for Northam, with angry activist Chelsea Handler stating that Russian bots "are already interfering with Virginia's election. Spreading disinformation and race baiting." Actress Piper Perabo tweeted multiple times, telling people to vote for "gun sense" by voting for Northam and other Democrats.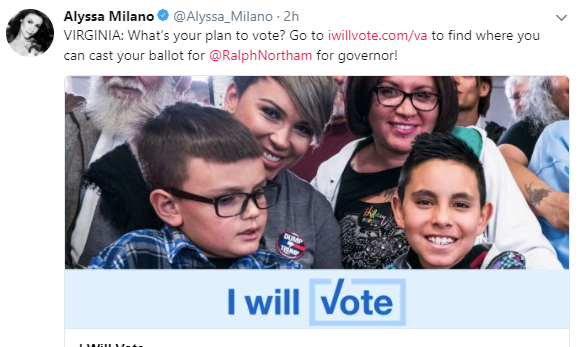 Actress Alyssa Milano, the same one who claimed she was non-partisan and "had no politics," is encouraging her followers to find a place to vote….for Northam. Actress Elizabeth Banks, (Hunger Games, The Lego Movie) shared Wanda Sykes' PSA and encouraged people to vote Democrat. She was joined by Debra Messing and Steve Pasquale, who both told people to vote blue in Virginia.
Director Ava DuVernay brought up the Charlottesville incident, attempting to hold Gillespie accountable for Trump's words: "'Very fine people on both sides.' He said that. Meant that. Virginia, it's your time to talk back thru your votes."
Julianne Moore tweeted, "Say no to racism." In a world that follows Hollywood's every move, one might argue that the political manipulations of actors and actresses add more strife to the divisive environment that has blossomed throughout the nation.