When a scandal forces liberals to criticize both Hollywood and the Obamas, you know it's bad.
Hollywood and Washington are both freaked out over a New York Times report about mega-producer Harvey Weinstein and allegations of sexual harassment over nearly three decades. Several liberals raised a key point: Wasn't this the same producer that gave Malia Obama an internship at the Weinstein company? The Daily Beast also asked: If Hollywood knew about Weinstein's supposed harassment, why didn't they speak out against him?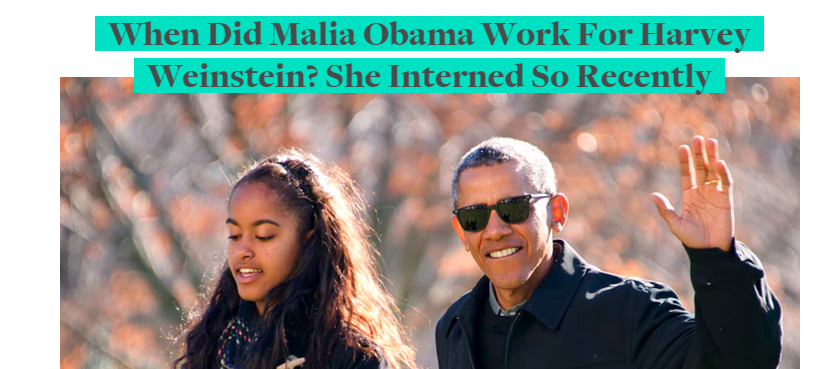 Former New York Times writer Frank Rich, now executive producer for Veep, tweeted on October 6, "Biggest mystery of @nytimes Weinstein story: How exemplary parents like Obamas let their daughter work there. The stories were out there." Yesterday, Bustle and Hollywood Reporter published articles talking about Malia Obama's internship at the Weinstein company, which reportedly lasted from January to August of 2017.
Bustle went so far as to say, "This isn't the first brush the Obamas have had with Weinstein. In 2011, Weinstein held a lavish, star-studded fundraiser for Obama's 2012 presidential run at the exec's Westport, CT mansion, and donated over $28,500 indirectly to Obama's 2008 campaign through the DNC and their White House Victory Fund."
The Obamas have always been held up as "good parents" by the liberal media. If they were such great parents, it's fair to ask why did they let their 18-year old daughter work for an alleged sexual predator for more than six months?
This raises another question, addressed by the Daily Beast: Weinstein was one of the most thanked and praised producers in Hollywood. Oscar acceptance speeches usually included a shoutout thanking the producer. Kevin Fallon wrote, "Screenwriter Elizabeth Eromosele, who is a former Weinstein Company intern tweeted in response to the report, "We all knew. This article is 2 decades too late." How many of those actors in that acceptance speech mash-up video were among those who knew, who have been talking about Harvey amongst themselves for a long time?"
But for Hollywood, the place where Weinstein signed a petition to bring convicted rapist Roman Polanski back to the States, no one cared. Weinstein even wrote an op-ed arguing in defense of Polanski, saying, "Whatever you think about the so-called crime, Polanski has served his time."
Before this scandal broke, Weinstein was acclaimed not only as a producer of award winning films, but also as a liberal fundraiser who donated more than $600,000 personally to Democrat candidates and committees. He was also praised as a champion of women's rights and the LGBT.