Liberal Hollywood celebrities love to talk about saving the planet from climate change. They blame carbon-spewing humans for planetary crisis, all while living like hypocrites.
One of the biggest is actor and producer Leonardo DiCaprio. DiCaprio claims to be an environmentalist and has a charitable foundation, but that doesn't mean he's saving the world. Ironically, he was nearly outed by the left-wing, eco-website Grist on June 3; if only its "investigation" had gone deeper.
The site that bashes climate realists as "deniers" and panics about the state of the planet regularly, was inspired by a new Netflix show to consider whether DiCaprio's environmental activism has done anything. News writer Zoya Teirstein referenced Always Be My Maybe, in which one character asks, "What has he [DiCaprio] done for climate change?" Another replies, "He's working on it!"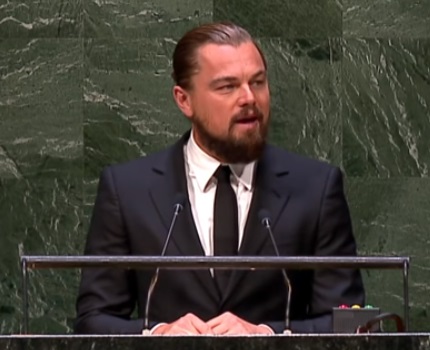 This prompted Teirstein to find out if DiCaprio was "working on it" and whether he'd accomplished anything.
She was unimpressed by DiCaprio's collaboration with National Geographic on the 2016 documentary, Before the Flood, in which he did "a lot of staring out airplane windows" to see (and show) the "effects of climate change."
"Did the Wolf of Wall Street succeed in saving his brethren? Nope, as far as I can tell everything is still dying," Teirstein snarked.
Teirstein said that the 21-year-old, Leonardo DiCaprio Foundation (LDF) claims to have "funded more than 200 projects" and granted $100 million to "132 organizations across 50 countries."
"But you'll have to take their word for it," she added. Why? Because the group doesn't provide financial disclosures for the grants, since it is a "donor-advised fund" and not required to.
"I want the goddamn receipts, Leo! Until then, my investigation ends on a solid: Maybe?" said Teirstein.
For Grist maybe, but not in reality. While her "investigation" was a nice start, she should have dug deeper and called DiCaprio out for his jet-setting lifestyle.
Since establishing his namesake organization in 1998, DiCaprio's climate hypocrisy has been obvious as he preaches about the dangers of global warming and lives an extravagant, globetrotting Hollywood life. In 2014, in a speech in front of the United Nations, he lectured on climate change, "You can make history… or be vilified by it."
That same year, The Daily Mail reported that he took "at least 20 trips across the nation and around the world" in 2014 alone, including numerous flights by private jet. In fact, according to Forbes, private jets can emit 37 times as much carbon dioxide as typical commercials flights.
During the 2014 FIFA World Cup, DiCaprio was noticed traveling to Brazil in a yacht owned by oil billionaire Mansour bin Zayed Al Nahyan of the United Arab Emirates. Yet he has condemned the coal, oil and gas industries for "corporate greed," according to MarketWatch.
In 2015, an MRC Special Report exposed Hollywood's climate hypocrites who proclaim the need to reduce fossil fuels, but don't practice what they preach. The list included DiCaprio.