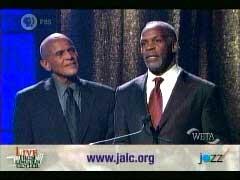 The Washington Post reports that the Lincoln Center hurricane fundraiser (broadcast in condensed form Saturday night on PBS) carried some liberal speechifying in it from celebrities.
Unlike other benefit concerts, "Higher Ground" was not marked by an apolitical tone: "When the hurricane struck, it did not turn the region into a Third World country . . . it revealed one," actor Danny Glover told the audience in a speech with Harry Belafonte. "Katrina was not unforeseeable," Belafonte said. "It was the result of a political structure that subcontracts its responsibility to private contractors and abdicates its responsibility altogether."

Bill Cosby called on the American people to hold government accountable: "This happened to the people. The Constitution says 'of the people, by the people, for the people' . . . but the people who got the office, got into office and forgot about the people."
Are these people serious? A hurricane is the result of a political structure? And is it fair to say that before Katrina, the poor in New Orleans lived a "Third World" existence? Did they have no potable water? No toilets? Just a tent and some scrawny goats?
UPDATE: Brent Baker tells me that some coverage from PBS stations was "condensed" (that is, major power WETA signed off early), while others went on. Coverage was live. AP's
report
by Nekesa Mumbi Moody adds more political remarks:
Robin Williams poked fun at the administration during his standup routine, in which he imagined an ethnically named Hurricane and its attitude: "I'm going to go to Kennebunkport and see if they respond any quicker!" 

...Elvis Costello, who performed with jazz giant Allen Toussaint, said he heard conservatives were worried about Katrina's rebuilding cost: "I just hope we keep in our minds that an effort like this can never be too expensive."

Jazz singer Jon Hendricks best summed up the tone of the evening. After singing one tribute, he said: "That's the way I feel about New Orleans; This is the way I feel about the country right now." Then he launched into the angry song "Tell Me The Truth," singing lines like "Nowadays, wrong is right, down is up, black is white, bad is good, truth is a lie" before defiantly singing, "Somebody tell me what's right," to applause.