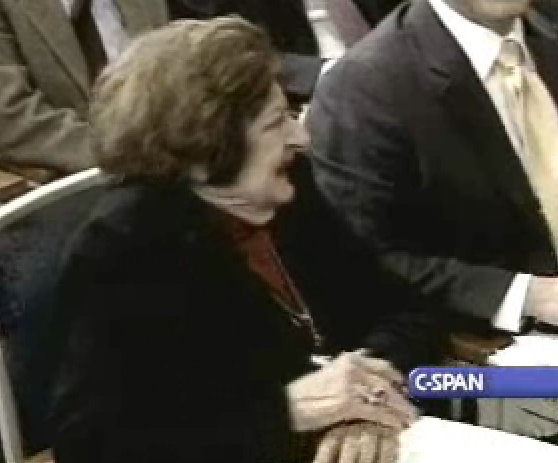 It's safe to say that columnist Helen Thomas is not a favorite figure in the White House pressroom as far as conservatives are concerned. On Wednesday morning, the "Fox & Friends" crew discussed the revelation that the Fox News Channel has asked for a better seat during gaggles and pressers in the newly renovated pressroom once it's completed, one in the front row in fact.
Co-host Steve Doocy mentioned that FNC and another cable outlet have asked for this privilege, but as the new design only includes one more front-row seat, Helen Thomas would have to be kicked out of her chair to accommodate both outlets.
This set up a comical discussion between the gang, including a viewer poll about the issue (video available here).
Doocy at one point commented, "She's not really a reporter anymore; she's a commentator."
Brian Kilmeade entered the discussion saying, "She's an agitator."
Doocy replied:
She is an agitator. She gets things going. Tony Snow doesn't need a cup of coffee in the morning.
Later, Doocy reported the unofficial results of the e-mail poll, and he stated that of the 300 messages they'd received, "I cannot find one person who thinks Helen Thomas should keep her front-row chair there."
Gretchen Carlson chimed in: "Who should get the seat? The cable news company with the highest ratings."
Nah. That makes too much sense.