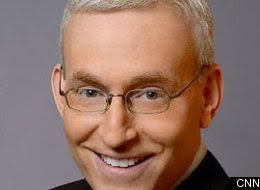 At Media Bistro on Friday, Gail Shister transcribed Jonathan Klein's post-mortem spin on why he was let go from CNN/US. You see, Klein's problem was that he "was unable to stop the prime-time bleeding with non-partisan programming."
In case any readers here might be tempted to take Klein's contention or Shister's transcription seriously, here are NewsBusters links to posts about Rick Sanchez, Larry King, CNN Headline's Joy Behar, Christiane Amanpour (before she went to ABC), and Aaron Brown, who left CNN in late 2005.
Here are several paragraphs of Shister's schtick (bolds are mine), which you'll see at least has an inadvertently accurate title:
CNN Shift: Jon Klein on his dismissal: 'It came out of left field'

Getting shot as a way of being fired isn't always a bad thing, says Jonathan Klein.

"It's like a sudden 'Sopranos' ending to your job," says Klein, who earlier today had compared his sudden departure as CNN/U.S. president to getting shot.

"There's something to be said for quick and painless. It was surprising, but certainly quick. There was no rancor associated it."

During his six-year run, Klein was unable to stop the prime-time bleeding with non-partisan programming. Conversely, his replacement, HLN's Ken Jautz, found great success by wrangling big-buzz opinion-makers Nancy Grace and Glenn Beck.

Contrary to conventional wisdom, Klein says it is still possible for a cable news network to succeed in prime time without having a political spin a la Fox (right) or MSNBC (left). The key is in finding the right talent.

"Other networks might be amusing or entertaining, but how many are truly essential viewing," Klein says. "The challenge is to be interesting when you follow that non-partisan path and you really nail it. Then you become essential, like '60 Minutes.'"

"You need the right people in the right format. When CNN was at its best, we were essential viewing."

... CNN remains committed to non-partisan programming, Klein says. Otherwise, management would have made its move earlier, before the new schedule was locked in, he explains.
Klein's citation of '60 Minutes' as 'non-partisan' is about as ridiculous as it gets (here's a link to previous NewsBusters posts about "60 Minutes," which contains over 200 entries, the vast majority of which are not complimentary), and Klein of all people should know it.
In September 2004, shortly before he joined CNN, Klein, who left CBS after 17 years in 1999, went on Fox's O'Reilly Factor to defend a '60 Minutes' report on George W. Bush's Texas Air National Guard (TANG) service. During that interview Klein criticized bloggers and others in the alternative media who had exposed clearly fraudulent documents used in that report, saying that "you couldn't have a starker contrast between the multiple layers of checks and balances, and a guy sitting in his living room in his pajamas writing what he thinks."
Klein's reference to "60 Minutes" in the above excerpt would appear to indicate that he hasn't gotten the message that the guys in pajamas were proven right, CBS was proven wrong, and the substance-free Bush-TANG report was a blatantly partisan pre-election hit piece.
That kool-aid Klein is drinking must be really powerful stuff. A commenter at Shister's Media Bistro post responds to Klein's claims of non-partisanship thusly: "Just saying it over and over has never made it true and saying it now as you're walking out the door is hilarious."
Cross-posted at BizzyBlog.com.