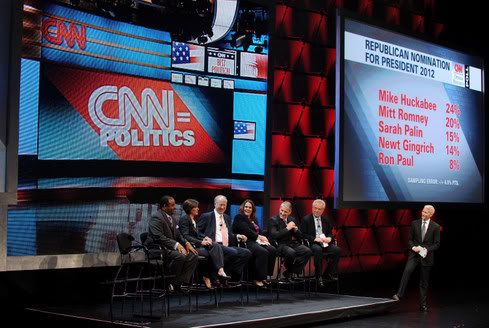 Well, at least the final word in the headlined quote above is correct.
Media Bistro's Chris Ariens has a roundup of other write-ups from CNN's "Newsmakers" upfront meeting with advertisers yesterday (picture at right is from that event). 
The network had better hope that no one from the trial bar catches wind of some of what CNN's folks said at the meeting yesterday, because the degree of false advertising that occurred may be the only thing that exceeds the degree of the network's pervasive leftist bias.
Here are three of Ariens's examples, with originals links included:
Marisa Guthrie and Broadcasting & Cable -- "The cable news channel made its commitment to journalism the centerpiece of its presentation, which it called "Newsmakers." "We are the only credible, non partisan voice left, and that matters," said Jim Walton, president of CNN Worldwide.

Stuart Elliott of the NYTimes -- ...executives alluded to the recent spate of news articles about CNN's poor ratings in the first quarter as Fox News, part of the News Corporation, and MSNBC, part of NBC Universal, stay ahead of CNN in prime time. Mr. Walton referred lightly to "all the great coverage we've had" and [EVP of sales & marketing Greg] D'Alba said that "there's no way" the complete story was being told about CNN's performance.

Gillian Reagan of Business Insider -- Although rival networks like Fox News and MSNBC were not named during the presentation, they were referenced in executives speeches - as a way to explain what the network doesn't plan to do. Jonathan Klein, president for CNN U.S., said the network doesn't plan on taking on characteristics of competitors who bring in brash hosts and parade a series of guests "who agree with him."
Stop it Jon, you're killin' me.
Poor Jonathan Klein. It just hasn't been the same for him, or for the rest of the establishment media, including CNN, since that delicious day in 2004, at the height of Dan Rather's made-up report about then President Bush's Texas Air National Guard service (complete with obviously forged documents), when Klein, who was then at CBS, told the world that:
"You couldn't have a starker contrast between the multiple layers of check and balances [at '60 Minutes'] and a guy sitting in his living room in his pajamas writing."
Concerning what eventually became known as Rathergate, the guys and gals in pajamas were right. Dan Rather, Mary Mapes, Jonathan Klein were wrong, and remain so to this day.
But there would seem to be plenty of opportunity for Jon Klein elsehwere -- in standup comedy.
Speaking of comedy, here's the headline of Ariens's report: "CNN's Walton: 'Our journalism is the currency of the national conversation.'"
Klein and Walton, the next Rowan and Martin.