This one's a particularly egregious example of party-ID dodging, even for those of us who are used to seeing the establishment media avoid mentioning the political party of almost any disgraced or troubled Democratic public official.
Former Racine, Wisconsin mayor Gary Becker, a Democrat, was sentenced Wednesday to three years in prison for child enticement and attempted sexual assault of a child.
Here are the results of a Google News search on "Gary Becker Racine mayor" (without quotes) shortly after midnight: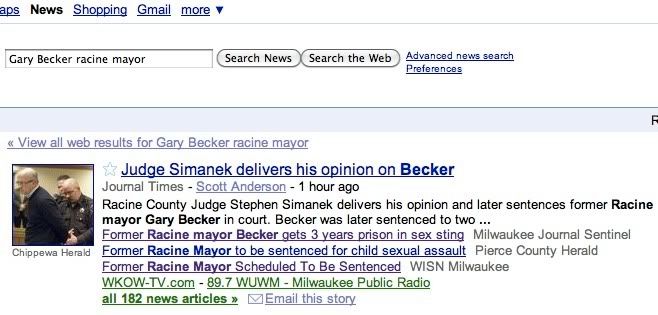 Here is the result a of a Google News search on "Gary Becker racine democrat" (without quotes):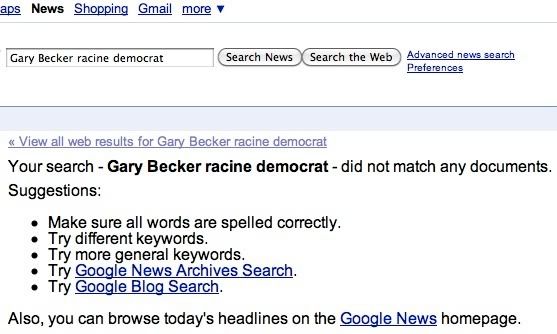 The result upon changing "Democrat" to "Democratic" was still a big fat goose egg.
Although it's possible that news stories could have used some variation of "(D)," it seems highly unlikely. If it occurred at all, it would have happened very few times.
For those curious about the gist of the story, here is most of the Associated Press's brief write-up:
Ex-mayor of Wis. city gets 3 years for sex sting
The former mayor of Racine, Wis., has been sentenced to three years in prison after pleading guilty to two charges stemming from an Internet sex sting.
Fifty-two-year-old Gary Becker had faced up to more than 27 years in prison at his sentencing hearing Wednesday. He pleaded guilty in December to child enticement and attempted sexual assault of a child.
Judge Stephen Simanek said he was prepared to sentence Becker to probation but was alarmed to discover Becker purchased girls' underwear two weeks ago.
Prosecutors say Becker tried to arrange a sexual tryst last year with someone he thought was a 14-year-old girl. His online chat partner was really a state investigator.
It would not be unreasonable to contend that the AP didn't identify the city in its headline so that those not bothering to read on would have nothing to go on in guessing the former mayor's party affiliation.
Besides the AP, specific links I visited among the very many that did not identify Becker's party include:
As I've noted before, the AP is especially (and perhaps deliberately) negligent in stories such as these that go over the national wires.