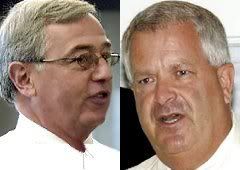 Sadly, posts like this one about the continued refusal of the Associated Press to label disgraced and now-indicted Northeast Pennsylvania judges Mark Ciavarella and Michael Conahan are starting to sound like a broken record. 
Fair enough, but someone has to track the record AP is apparently seeking, the one for "most failures to mention a Democratic Party affiliation after initially doing so."
You see, in an early report back in February when the story first broke, AP told readers (as noted at NewsBusters; at BizzyBlog), that "Both are Democrats." Shortly thereafter, revised and extended versions of that early report omitted the two judges' party affiliations.
No other AP story since issued that I am aware of has told readers that Ciavarella and Conahan are Democrats, even though the wire service's reports on case developments have gone over their national wire, as seen here today at AP's raw feed at about 2PM:
Here are the latest developments, as AP's party-blind Michael Rubinkam reports:
Former Pa. judges indicted in kids-for-cash scheme

ALLENTOWN, Pa. (AP) -- Federal prosecutors have ratcheted up their pursuit of two former Pennsylvania judges accused of taking $2.8 million in kickbacks to place youth offenders in private detention centers.

Former Luzerne County Judges Mark Ciavarella Jr. and Michael Conahan were charged in a 48-count indictment Wednesday with racketeering, extortion, bribery, money laundering, fraud and other crimes. The indictment was made public Thursday.

The judges had pleaded guilty in February to two counts - honest services fraud and tax evasion - in a deal with prosecutors that called for a sentence of 87 months in prison, far below federal guidelines. But Senior U.S. District Judge Edward M. Kosik rejected the deal last month, saying the two had not fully accepted responsibility for the crimes.

The pair then switched their pleas to not guilty, and prosecutors took the case to the grand jury, adding counts against the two. The judges have an initial court appearance Tuesday.

Al Flora, Ciavarella's lawyer, said his client will plead not guilty.
So, to paraphrase Massachusetts Senator John Kerry's infamous statement on Iraq War funding ("I Actually Did Vote for the $87 Billion, Before I voted Against It"), these judges were guilty before they weren't guilty. Priceless.
The crimes involved (I'm really not inclined to say "alleged" for all of them, given that the judges were ready plead out to at least some), committed against children who were sent to detention centers for minor and/or first offenses when in most cases detention was clearly not called for, are particularly heinous. In this case, it is quite likely that readers, especially those outside of Northeast Pennsylvania, would want to know what the political party affiliation of these judges is.
As has been the case in previous posts, I will quote the AP Stylebook's guidance in this matter, and assert that there is no defense for non-inclusion: 
party affiliation Let relevance be the guide in determining whether to include a political figure's party affiliation in a story. Party affiliation is pointless in some stories, such as an account of a governor accepting a button from a poster child. It will occur naturally in many political stories. For stories between these extremes, include party affiliation if readers need it for understanding or are likely to be curious about what it is.
This is at least the fourth failure, counting at least these three previous items: the initial washout (as seen at MSNBC), a July 31 story (covered at NewsBusters; at BizzyBlog), and one I posted on last week (at NewsBusters; at BizzyBlog).
Somebody call the Guinness Book of Records. By the time the legal proceedings for these two pathetic wastes of judicial robes are over, AP could hit double digits in party-naming avoidance. Given that I haven't seen all of the wire services' stories, and that from what I have seen have reason to believe AP has consistently practiced party avoidance in this matter, maybe they already have.