MSNBC host Chris Hayes infuriated Team Trump with a tweet on Wednesday night unspooling the kooky conspiracy theory that the White House "rolled out the model showing 100k deaths after they knew it would be less than that so they could anchor everyone to that # and take a vicotry [sic] lap when 'only' tens of thousands died."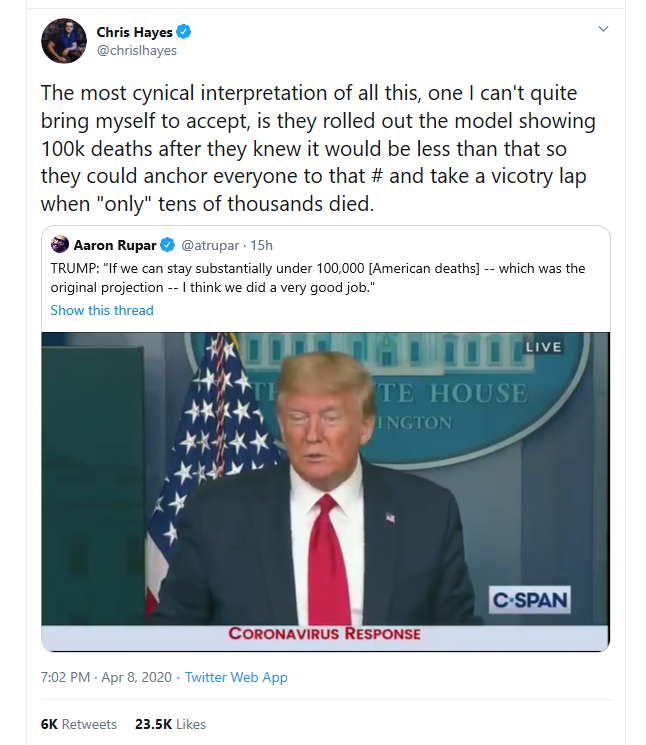 Caleb Howe at Mediaite chronicled how Hayes tried to hem and haw his way out of the outrage that followed: "I said I can't bring myself to accept it!" Then don't tweet it, if you "can't quite" get behind your own uncharitable conjectures.
While some notable media people like Nate Silver of Five Thirty Eight took exception, Howe concluded the Hayes outburst "did not provoke widespread dragging or condemnation from others in the media. As in, the kind of firestorm such a conspiracy theory tweet would engender were Hayes from a different network."
At this point, it's incredibly quaint to remember when the media liberals tried to pretend they weren't politicizing the coronavirus response.
Earlier on the same day, Hollywood Reporter media correspondent Jeremy Barr was promoting his puff piece on Hayes as "made for this moment" on Twitter:
Chris Hayes on covering the spread of coronavirus: "I feel a tremendous responsibility with this job. It weighs on me tremendously. Very few people in the world ever in the history of human beings on the planet have had the scale of platform that I have."
Okay...but Hayes ranked #16 in cable-news viewership in the first quarter of 2020.
Barr laid it on thick with this Stelter-esque passage: "Hayes, 41, is figuring this out like the rest of us. At the same time, his primetime show has emerged as a reliable beacon of truth in a sea of uncertainty."
"Truth" equals aggressive left-wing messaging. It's also somehow easily conflated with facts, and science:
"I feel like what we're doing right now is as important as it's ever been," Hayes says. "I feel like there is a vacuum of credible authority on this. I think it's our job to be a platform for fact- and science-based rigor. I always feel that way. But I feel that more than ever now. I feel like I have a role to play, and I feel a very intense sense of mission."

His boss, MSNBC head Phil Griffin, also has noticed. "Chris has delivered the facts with outstanding analysis from the moment this global crisis hit," he says. "That's who he is. When there's so much uncertainty and we're looking for clarity, we turn to Chris across every platform."
Is this journalism? Or just a corporate brochure?
Barr even touted the host's failing attempts to remove Trump from office as a positive: "Hayes spent much of 2018 and 2019 focused on the drip drip malfeasance of the Trump administration and the possibility that the president could suffer real consequences from the Mueller Report and his meddling in Ukraine."
Their Russia conspiracy theories also didn't match the term "fact-based rigor."