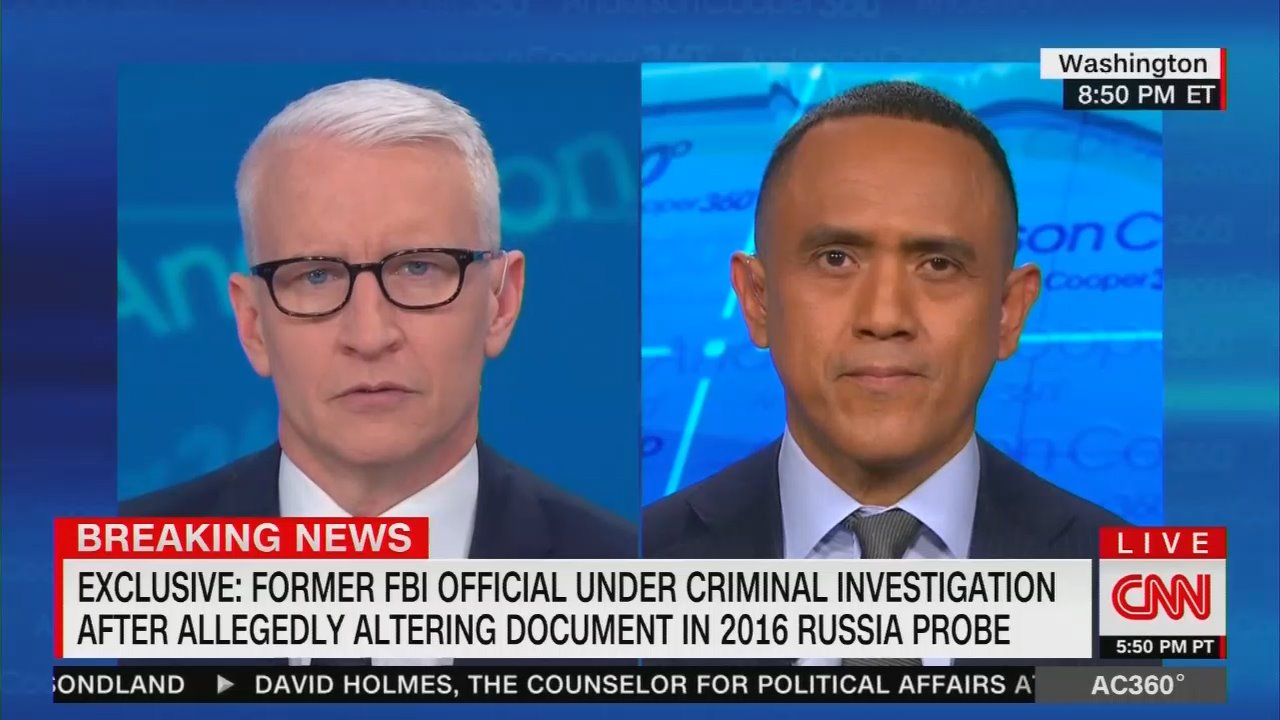 Fox News media reporter Joseph Wulfsohn offered a puzzling story about CNN burying its own scoop on Thursday. It was headlined "CNN downplays its own FISA bombshell report, receives minimal on-air coverage."
The bombshell? Justice Department inspector general Michael Horowitz has been investigating an FBI official who allegedly altered a document used to obtain a FISA warrant in order to surveil Trump campaign adviser Carter Page during the 2016 election. Horowitz reportedly turned the evidence over to U.S. Attorney John Durham, who has launched a criminal probe in the origins of the Russia investigation.
The Washington Post also confirmed this report. But CNN kept it pretty quiet, even though CNN correspondent Evan Perez stated "it is clear this is a very important part of the investigation, right? And it's going to be something that certainly from a political standpoint is going to be very important for the president and his allies." Maybe that's why CNN was avoiding it.
After the news broke on The Situation Room with Wolf Blitzer, it was completely ignored on OutFront with Erin Burnett, Cuomo Prime Time, and CNN Tonight with Don Lemon. It did, however, receive less than five minutes of coverage towards the end of Anderson Cooper 360.

What was more puzzling was that after the two hours since CNN broke the news, Cuomo Prime Time anchor Chris Cuomo failed to mention his network's report during a segment that featured former FBI Deputy Director Andrew McCabe and former FBI General Counsel James Baker, both who are now CNN contributors but were high-ranking FBI officials when the document used in the FISA application was altered.
CNN stayed obsessed with the impeachment hearings. Cuomo asked McCabe and Baker to add to the day's liberal spin that John Bolton's aide Fiona Hill "shattered GOP conspiracy theories." One of those "conspiracy theories" is that Team Obama used a sleazy dossier of gossip to obtain a FISA warrant against Carter Page.
Shamelessly, Cuomo offered a blazing editorial proclaiming "There can be no question that Republicans are ignoring the facts for favor." Wow. While he ignored inconvenient facts about Page's warrant uncovered by his own colleagues.  
In fact, Fox News offered more on-air coverage to CNN's bombshell report than CNN did. The story was discussed by Martha McCallum at 7, Sean Hannity at 9, Laura Ingraham at 10, and Shannon Bream at 11.