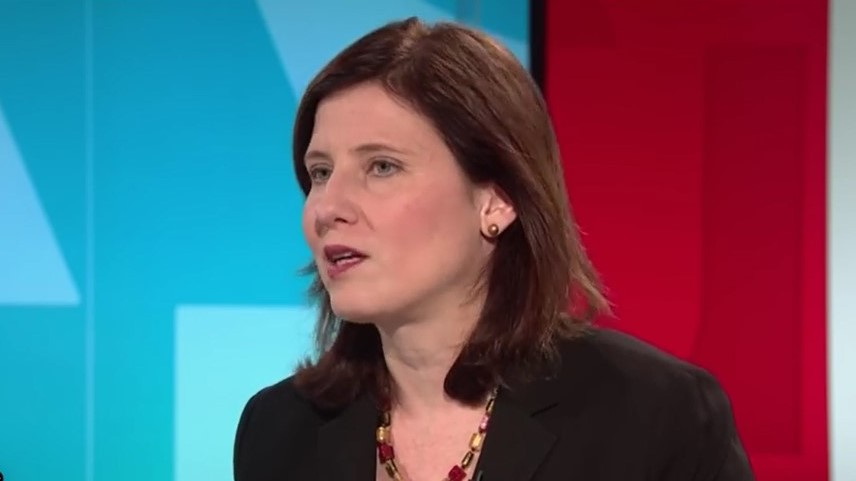 Since President Trump's State of the Union is a "Super Bowl for fact checkers" (says Brian Stelter), PolitiFact has re-posted this unintentionally funny article on their homepage: "PolitiFact is not biased -- here's why." Editor Angie Drobnan Holic insisted:
1. We fact-check inaccurate statements, not political parties.

We are always on the lookout for bad information that needs correcting. We don't have any concern about which party it comes from or who says it.
This....is Pants on Fire.
PolitiFact has been sustained by large grants from liberal foundations including the Ford Foundation, the Bill and Melinda Gates Foundation, and the leftist Craig Newmark Foundation. (Newmark is the founder of Craigslist.) Holic claimed they don't pay attention to how many each party or person gets:
2. We follow the facts, not fact-check count formulas.

We let the factual chips fall where they may. This is not bias; this is sticking to our mission of correcting falsehoods as we find them.

We don't worry about who got the last False rating or how long since some group got a True rating. We look at each statement and each set of evidence separately and give it a rating that stands on its own.

If one person or party makes a series of inaccurate statements, we tend to fact-check more of their statements. If their opponents don't make as many inaccurate statements, we fact-check them less.
Really? What if someone worried? Let's take a quick check of 2017 and 2018 to see what happens when you actually care about who is fact-checked more and less.
-- President Trump was fact-checked on their "Truth-o-Meter" 297 times in the last two calendar years, and 205 of those statements were ranked Mostly False, False, or Pants on Fire. That's 69 percent of the time.
-- Nancy Pelosi, then the House Minority Leader, House leader Nancy Pelosi was checked 12 times. Six of them were on the False side (50 percent), zero Pants on Fire. Five were True or Mostly True, and one was Half True.
-- Charles Schumer, the Senate Minority Leader, was checked 9 times. Four of those were on the False side (44 percent), three on the True side, and two Half Trues.
-- President Trump was rated a "Pants On Fire" liar 33 times, more than these two Democrat leaders were rated at all (21 times).
-- In the partisan breakdown of "Pants on Fire" ratings in 2017-18, Republicans/conservatives were tagged 98 times overall and Democrats/liberals merely 15 times. That's a margin of more than six to one.

In the "Blue Wave" year of 2018, Barack and Michelle Obama were rated....Zero times. Hillary Clinton was rated.....Zero times. Sen. Elizabeth Warren was rated....Zero times. Bill Clinton drew one...for claiming they were poor when they left the White House.
It's not just Trump. Ted Cruz and Elizabeth Warren were both elected to the Senate in 2012. Cruz was assessed for truth on 135 occasions by PolitiFact through 2018, but Warren? Only five.
And for the record, PolitiFact has never evaluated Warren on the "Truth-o-Meter" when she claimed to be part-Cherokee Indian. She has never been tagged on the "False" side, just three "Mostly True" ratings and two "Half Trues." (They added a Mostly True and a Half True in January, surely changing their "objective" approach and evaluating her more since she's running for president.)
In 2017 and 2018, Ted Cruz was rated by PolitiFact on 21 occasions...and his Democrat opponent Beto O'Rourke drew 12. But Cruz was placed on the False side on 15 of 21 evaluations (71 percent), and O'Rourke was rated on the False side three times out of 12 (25 percent).
Isn't it funny what trend appears when you count? Like the rest of the Liberal Media, PolitiFact treats conservatives as much more likely to lie and mislead.