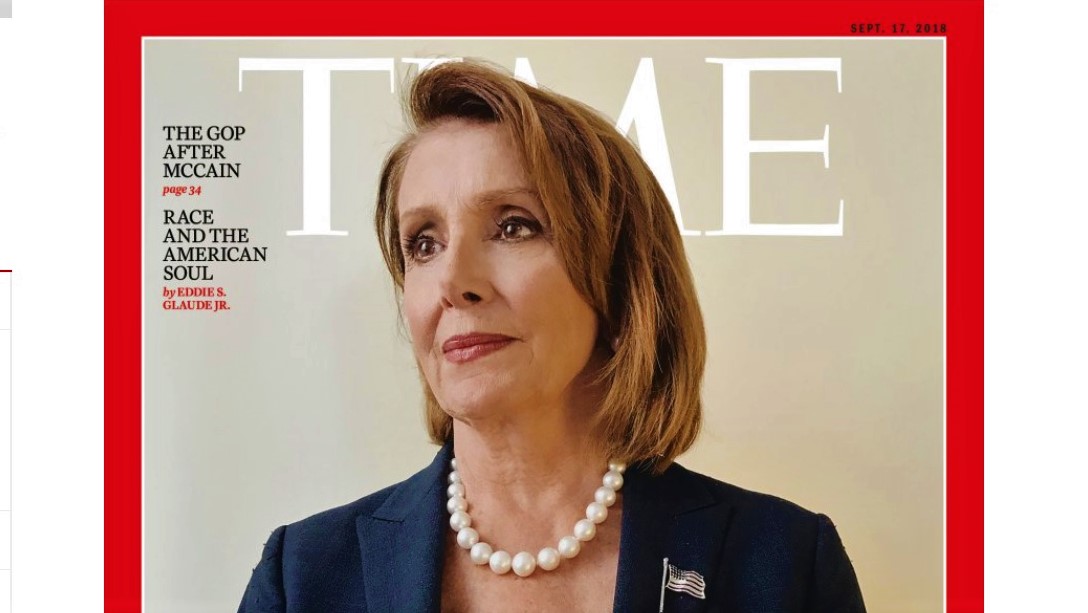 It's clear someone at Time magazine wasn't a Nancy Pelosi fan when she was Speaker of the House. During her tenure as Speaker from 2007 to 2011, Pelosi didn't make the cover, but Sarah Palin did....three times. In the fall of 2018, Pelosi has finally arrived inside the red frame....as the news magazine fades in relevance. Molly Ball's cover story was full of gauzy prose about What She Means. 
This paragraph really underlines how Time is a magazine for Democrats. Their "accomplishments" are tremendous, and Republicans are horrendous:
Pelosi is one of the most consequential political figures of her generation. It was her creativity, stamina and willpower that drove the defining Democratic accomplishments of the past decade, from universal access to health coverage to saving the U.S. economy from collapse, from reforming Wall Street to allowing gay people to serve openly in the military. Her Republican successors' ineptitude has thrown her skills into sharp relief. It's not a stretch to say Pelosi is one of very few legislators in Washington who actually know what they're doing.
Actually, it IS a stretch to suggest few Members of Congress know what they're doing. It's like saying Molly Ball is "one of very few journalists in Washington who actually know what they're doing." Please. What the journalists are doing is acting like Democratic operatives. 
For example, CNN anchor John King protested this delay in a Pelosi cover on Monday's Inside Politics: "That is stunning! She is the most successful woman in American political history. Whatever you think of her, you have to tip your hat to her tenacity and her skills. She says in an article by Molly Ball, and it's must reading, 'If I weren't effective, I wouldn't be a target.'" Ball also unleashed this paragraph: 
The attacks on Pelosi are particularly ironic in this political moment. Since Donald Trump's election, American women have poured into the streets, signed up to run for office in record numbers and surged to the polls. Many of them look a lot like Pelosi once did. They are brainy, liberal and comfortably situated moms who have looked at the political system with the exasperation of a person who has seen her husband get the laundry wrong and realized that she's going to have to do it herself.

If Democrats regain congressional power in November, as most experts expect, it will be by riding a tidal wave of female rage. But rather than tout their female leader – the first woman Speaker in history, and the odds-on favorite to reclaim the title – many Democratic politicians, both male and female, are running in the opposite direction. In this season of female political empowerment, Pelosi's power still rankles.
Is this Time magazine...or Ms. magazine? So check out the early dismissal of Pelosi in 2006 Time editions: 
Pelosi was obviously slighted when she took over. John Boehner made the cover right after the 2010 midterms – grinning a bit crazily like the Grinch Who Stole Christmas. But right after the 2006 midterms, their "Midterms Issue" just had a red circle and a blue circle merging, and the headline "Why The Center Is the New Place to Be, by Joe Klein."
Inside, they carried a brief little Pelosi interview with Perry Bacon Jr. which included the question: "Oblivious, in denial, incompetent, dangerous. Do you regret using any of these words to describe the president?" Pelosi: "No."
The "Person of the Year" in 2006 was the dreadful cover with the mirror inside a computer. "You" was Person of the Year. Inside, Pelosi didn't even merit her own article. There was an article on "The Winning Team," that included Pelosi alongside Harry Reid, Chuck Schumer, and Rahm Emanuel – even as they briefly noted she would be the first female Speaker of the House.
I couldn't find a word about Pelosi in the first magazine of 2007 about her taking the gavel (dated January 15), and the first Time profile of a congressional leader (in the January 22 issue) was....Sen. Harry Reid, even as reporter Karen Tumulty reported "the rules give Pelosi far more power" and Reid may get "gavel envy."