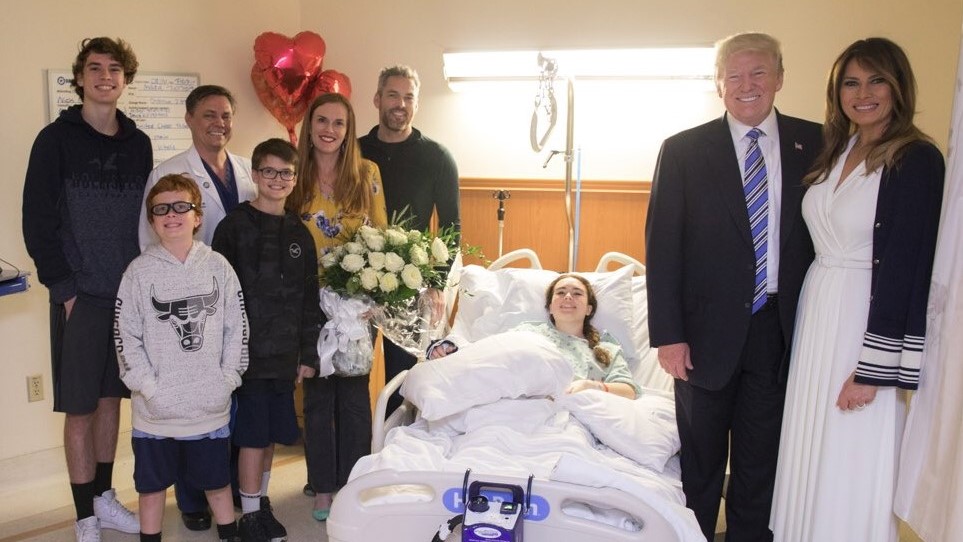 John Sexton at Hot Air pinpointed an obnoxious Washington Post article on President Trump visiting the victims of the Parkland school shooting. Trump made a point of not bringing reporters with him as he visited victims, so he could milk the publicity out of it. We can predict reporters might have either (a) found it crass for Trump to be politicking in the hospital so soon or (b) found some gaffe in what he said to victims.
Post reporter Josh Dawsey openly editorialized that Trump doesn't care about victims as much as he wants to praise cops and first responders, and suggested that maybe Trump didn't meet with victims (despite Trump posting hospital pictures on Twitter):
POMPANO BEACH, FLA. — President Trump, as he often does while responding to natural disasters, mass shootings or unfolding crises, spent much of his time congratulating the responders instead of memorializing the victims of Wednesday's school shooting during a visit here Friday.

Trump, in two quick stops at a hospital and sheriff's office near the school where 17 were killed and scores were injured, praised the doctors, police officers, fire officials and others who responded quickly to the mass shooting in Parkland, casting their response as heroic and record-setting.

"Incredible job, and everybody is talking about it," Trump said of the response, with dozens of officers flanking a large circular conference room table on the fifth floor of the Broward County Sheriff's Office.

Trump said he saw victims at the hospital — he was not seen doing so — and even described one woman who suffered bullets to her lungs. That anecdote, though, quickly became about the officers, who responded within 20 minutes and saved her life.
So if reporters don't come along, it didn't happen? Isn't this the kind of maybe-it's-fake-news gambit they hate from Trump? Naturally, the Democrat newspaper underlined Trump was no Obama: 
He did not give an emotional or rousing commemoration to the victims — like President Barack Obama's after a mass shooting at a Charleston, S.C., church — nor did he publicly greet any families whose children were killed in the attack. Speaking at a funeral or a large vigil was not on the agenda. There were no calls for American resolve. There were no tears.

The visits were quick. For instance, Friday night, he was in the hospital for about 35 minutes, speaking to the news media for about 45 seconds. He was in the sheriff's office a bit longer.

The president and his aides — who have been largely silent as Cabinet officials have been accused of wrongdoing and inappropriate spending, an immigration push failed, 13 Russians were indicted with spreading disinformation to help Trump in the election, new detailed accusations of his alleged affairs emerged and concerns grew about security clearances — did not take questions again Friday....

His critics and even some allies say he should look at changing laws after this latest mass shooting, and he probably would have been greeted by protesters had he visited a larger and less controlled setting, aides conceded.
Sexton noted that Washington Post colleague (and frequent MSNBC pundit) Philip Rucker praised the Dawsey article on Twitter: "Very nice @jdawsey1 dispatch on Trump at Florida hospital — not as comforter in chief, but as congratulator in chief. Keep reading to the end."
Rucker was drawing attention to Dawsey's concluding jab at Trump. When the officer who handcuffed the alleged shooter briefly explained his role, Trump said  "I would have told it much differently....I would have said, without me, they never would have found him."
Rucker's tweet drew a response on Twitter from press secretary Sarah Huckabee Sanders: "Actually @PhilipRucker it's not very nice, but it is very misleading. @POTUS spent private time w/ victims of the shooting & their families. Out of respect for them he didn't bring media into their hospital rooms but don't let the truth get in the way of your anti-Trump narrative".