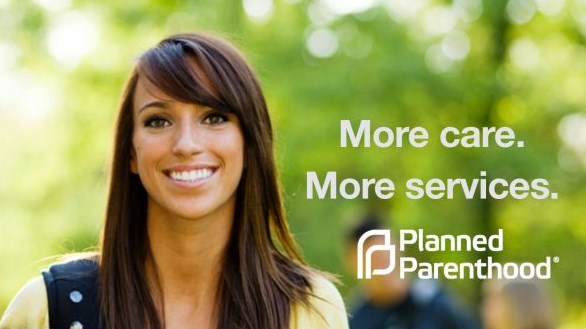 The only way Planned Parenthood can deny the reality on those Center for Medical Progress videotapes -- those captured conversations of their executives negotiating prices for harvested baby body parts – is to say "Don't trust your ears and eyes. Just know that people who loathe abortion can't possibly be trustworthy sources."
Planned Parenthood is delighted with Rolling Stone magazine. They're sending around a link to the hippie rag. Andrea Grimes penned what might be the most deluded clause of the year: "the myth that Planned Parenthood is a baby-killing behemoth persists, despite all evidence to the contrary."
That clause brings about as much truth to the table as Rolling Stone's manufactured tale of gang rape at the University of Virginia.
Grimes was disgusted that PP boss Cecile Richards had to testify in "sham hearings" on the tapes: "She endured these discourtesies with a steely resolve. She shouldn't have had to be there in the first place; nobody should have." After all, apparently no babies ever die at Planned Parenthood. That's a "myth."
Rolling Stone is trying to talk liberals out of the inconvenient videotaped truth:
Maybe you're thinking, "I don't know what's going on with this Planned Parenthood story, but something must be – those videos do sound damning." [Emphasis theirs.]

That's understandable. So let's do this: I'm going to describe for you, broadly, what the people who made the videos believe, and whom they're associated with, and then I want you to ask yourself if they sound like trustworthy sources.
Rolling Stone's headline signaled their distraction-by-association shtick: "Planned Parenthood Is Not Harvesting 'Baby Parts' – The group behind the undercover Planned Parenthood videos intends to make abortion illegal, full stop." Clearly, harvesting lungs, livers, and brains aren't "baby parts," but  "fetal tissue." If you oppose abortion as a moral wrong, then you cannot be trusted to provide reliable information.
Grimes seriously distorted what the CMP videos show:
The videos purport to show Planned Parenthood employees, including some doctors, negotiating big-bucks deals for fetal tissue. The Center for Medical Progress (CMP), which produced the videos without the consent of the people it secretly (and in some cases illegally) filmed, says Planned Parenthood is dedicated to the sale of what it calls "baby parts," and that it is conspiring to coerce people – ignorant, easily duped women who don't know what's best for themselves, mostly – into getting abortions in order to generate profit from those sales.
The tapes show PP staffers talking glibly of selling hearts, livers, and brains as a revenue stream, and how they are "consenting" the mothers, often quite easily, making them feel better about themselves, that they're helping scientific research as they eliminate any parental responsibilities.
Grimes, like a good abortionist's pet, then claimed PP is merely seeking "reimbursement," and they're "integral" to saving lives, so ignore the videotapes.
The truth is that medical research, including research using fetal tissue donation, is an integral part of keeping humans happy, healthy and alive. Research using fetal tissue helped create the polio vaccine. Doctors and biologists continue even today to seek cures for other diseases and rely on fetal tissue in their work. (Remember when we were all gleefully dumping buckets of ice water over our heads to cure ALS? We were doing so to support research that involves fetal tissue.)

People who choose to donate fetal tissue after an abortion often do so because they want to help others, not because they've been deceived by mustachioed villains hiding behind operating curtains.  Planned Parenthood recoups the costs of storing and transporting tissue for the many, many other entities, some of them public, that use fetal tissue to conduct research, and it's totally legal for Planned Parenthood, or any other medical entity that participates in fetal tissue donation programs, to collect this reimbursement.
This bald-faced exercise in restating Planned Parenthood talking points makes more sense when you realize Andrea Grimes isn't actually employed by Rolling Stone. She was senior political reporter for the ardently pro-abortion RH Reality Check website. Grimes, the one who claims it's a "myth" that Planned Parenthood eliminates babies, worked for a site which boasts of its hatred of misinformation:
Protection is our watchword—we are contributing to the global effort to empower people with the information, services and leadership they need to safeguard their sexual and reproductive health and rights against false attacks and misinformation.
Update: I incorrectly claimed Grimes is currently working for RH Reality Check. Grimes is now a digital editor for the leftist Texas Observer.