Last August, The New York Times hired former BBC director-general Mark Thompson as its president and CEO, despite a massive pedophilia scandal around the late BBC star Jimmy Savile. The Times is renowned in liberal media circles for its aggression in crusading against the Vatican on pedophlia, but the BBC? MRC president Brent Bozell asserted that the facts show Thompson was at the very least "guilty of gross professional incompetence" and at worst involved in "an indefensible cover-up."
The Times still looks like it's covering up for Thompson. There was no story this weekend as the leftist Guardian reported that longtime Savile chauffeur Ray Teret was re-arrested last Wednesday and appeared in court on Saturday: "Jimmy Savile's former chauffeur and flatmate has been charged with a string of sexual offences involving 15 teenage girls. Ray Teret, 72, is accused of 32 sexual abuse offences between 1962 and 1996."
The former chauffeur from Altrincham faces multiple accusations including rape, attempted rape and conspiracy to rape underage girls, as well as possession of an indecent image of a child. Police said that the accusations were not linked to the investigation into the DJ and TV presenter.
The Times should feel a special responsibility to cover the BBC pedophilia scandal now with Thompson at the helm, but it doesn't. AP put out a perfunctory and brief Teret story, and they, too, have more ardor for Catholic-bashing stories, while the journalists scratch each other's backs.
The Times list of protective omissions for Mark Thompson doesn't end there. The Guardian also reported on a Thompson "fiasco" on October 17: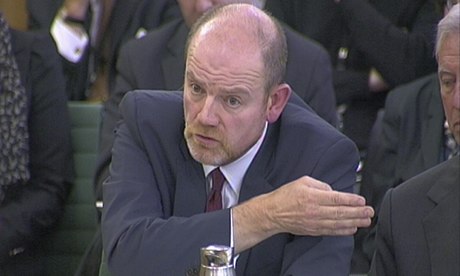 Former BBC director general Mark Thompson has been recalled to parliament over the corporation's failed Digital Media Initiative, which was axed earlier this year after wasting nearly £100m of licence-fee-payer's money. [British TV viewers have to pay a licence fee that pays 72 percent of BBC bills.]

Thompson, now the New York Times Company chief executive, will be asked whether he misled MPs in 2011 when he said that the ambitious project was "out in the business".

The Digital Media Initiative (DMI), which was designed to do away with videotapes and digitise BBC archive content, was eventually axed on 24 May after costing the BBC £98.4m.

The Commons public accounts committee, which is chaired by Labour's Margaret Hodge, said on Wednesday that it was "dismayed" by the failure of DMI and would investigate whether it was misled by the BBC about its progress.

Thompson is expected to appear before the MPs in January following the conclusions of a review comissioned by the BBC Trust into who knew what, and when, as well as how the project was so badly mishandled.

It will be the second time that Thompson has been recalled to Westminster since taking up his post in New York, following his previous appearance before MPs in September over six-figure executive payoffs.
That hearing drew a Times story on September 10, but not a word of this new bucket of bad news for Thompson made the Times. However, on October 14, Thompson was quoted in a Times article on the "global growth" plans of the Times Company:
''If we can get the combination of the new products that we're doing and the international strategy to significantly increase consumer revenue, that could be of real significance,'' Mark Thompson, The Times Company's president and chief executive, said in a recent interview.

The plans vary from news-based products, like video, mobile apps and expanded international coverage, to tangential revenue producers like one-day conferences and cruises featuring Times reporters and columnists as expert speakers. Mr. Thompson stressed that many of the initiatives involve and depend on using Times journalists, and building the efforts around them.

''The last thing in the world we want is the business side trying to invent journalistic product,'' he said. ''The future of journalism needs to be figured out in the newsroom of The New York Times, not in the ad department.''