MSNBC, the network that used to suspend anchors for donating a few hundred dollars to a candidate, didn't mind that its morning anchor Thomas Roberts emceed a fundraising dinner for the gays-in-the-military group Servicemen's Legal Defense Network on Saturday night. The keynote speaker was President Obama's senior advisor, Valerie Jarrett.
Roberts didn't hesitate to obliterate any line of objectivity. He told the magazine Metro Weekly "They approached me a couple of months ago and I jumped on the opportunity right away." He also declared MSNBC was a "fantastic brand" and he loved the opportunity to use his anchor desk to change the world for the gayer:
ROBERTS: I think we see a world that is opening its arms to a loving and understanding embrace. We still have a lot of work to do. We just need to keep shining a really bright light on where any inequality exists and what can be done to change it. And I couldn't be more pleased to be invited, to be a part of this.

METRO WEEKLY: And that's part of how you talk about what you do on TV.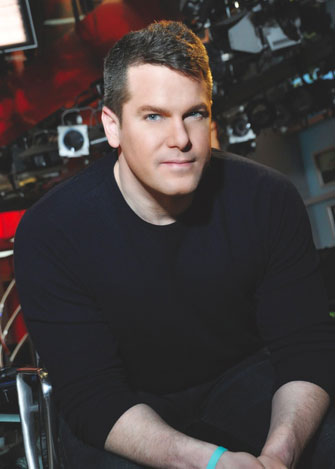 ROBERTS: Yes, I couldn't be happier that I get 60 minutes a day on MSNBC to add voice to the voiceless in this country. As a proud member of the LGBT community, I devote a lot of time and so does my executive producer. We agree on a lot of these social justice issues – that they need to be discussed and debated and talked about – and we try to bring as many as we can in the 60 minutes that we're granted a day to try to make that difference.

When you think about the fact that we can lead a show with a string of youth bullying – where kids are jumping off bridges or stringing themselves up in their own closets – and then end the show with the fact that in a state like Maryland marriage equality passed. When you're showing that big of a chasm between what you can lead a show with and how you can end a show, it's hard to not make a connection [about] the big disconnect that exists right now in this country.

So, we take great pride in the fact that we have this 60 minutes a day, and we try to use it in the best and brightest way that we can to educate, inform and inspire.
The Metro Weekly interviewer, Chris Geidner, encouraged Roberts to denounce certain gay anchors of cable news shows who have yet to emerge from the closet, but Roberts declined:
MW: Do you think that's important across the board? I don't want to get into any specifics about other people, but do you think that that's an issue that other personalities should be considering?

ROBERTS: Oh, where are you going?

MW: I'm not asking to go person by person. But do you think that it's a responsibility of a person on air or do you think that's just a decision that you've made?

ROBERTS: It's easy for me to stand on the other side of having decided to be publicly out six years later and act self-righteous about it, but I'm confident that this is the place where I need to be. I don't want to cast aspersions or judgment on anybody else. I'm just glad that I'm where I am. And that, while other people may choose to stay more off the radar on this, that's their choice.

Would I personally want to be out there being at the forefront of these issues and not having people know who I really was? No. I like the fact that people know who I am. And if they don't, they can Google me real fast and figure it out.
PS: Roberts just hailed the latest LGBT news on The Huffington Post, declaring "Luckily, I get to use my job to talk about this and shine a light in dark places." [Italics his.]
Please support NewsBusters today! (a 501c3 non-profit production of the Media Research Center)
DONATE
---