Newsweek and New York magazine are running it. The New York Times turned it down. But Benetton is returning to its decency-shredding advertising ways, photographically mashing world leaders -- even the Pope -- into homosexual kisses. This would be the same Newsweek that once refused a left-wing tree-hugger ad that trashed...Victoria's Secret.
"Italian clothing chain Benetton is trying to drum up attention for its flagging brand with ads showing global leaders kissing," reports The Wall Street Journal. "President Barack Obama locks lips with China's Hu Jintao and with Venezuela's Hugo Chávez. A picture of Pope Benedict XVI embracing Sheik Ahmed al-Tayeb, the imam of the al-Azhar mosque in Cairo, was hung from a bridge near the Vatican early Wednesday." Where are the Ground Zero Mosque defenders and Mohammed cartoon-crushers on this one? Other than the magazines that are taking Benetton money, that is.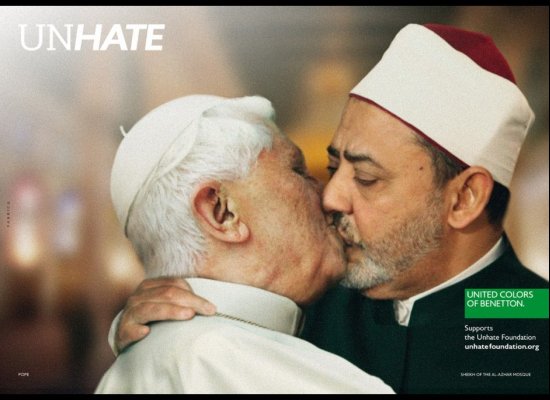 Benetton strangely calls it an "Unhate" campaign, even though it seems pretty hateful to religious people (and perhaps even Obama fans, who can't like the thought of conservatives chortling at Obama kissing Hugo Chavez). The Journal noted Benetton's campaign drew a quick reaction from the Vatican.
"We must express a firm complaint for the unacceptable use of his Holy Father's image, manipulated and exploited in an advertising campaign with a commercial purpose," Vatican spokesman Rev. Federico Lombardi said in a statement. Benetton said it is pulling the version featuring the pope, but that it hasn't received other complaints.
Alessandro Benetton, deputy chairman of the Benetton Group, exemplified smug European attitudes toward "hate."
"While global love is still a utopia, albeit a worthy one, the invitation 'not to hate', to combat the 'culture of hatred', is an ambitious but realistic objective," he said. "At this moment in history, so full of major upheavals and equally large hopes, we have decided, through this campaign, to give widespread visibility to an ideal notion of tolerance and invite the citizens of every country to reflect on how hatred arises particularly from fear of 'the other' and of what is unfamiliar to us.
The Fashionist blog has a jaw-dropping collection of the most ridiculous Benetton ads, especially its We on Death Row" campaign. Benetton -- no respect for the Pope, but fervent advocacy for convicted murderers.
The Huffington Post in the UK ran this Benetton-friendly home page: