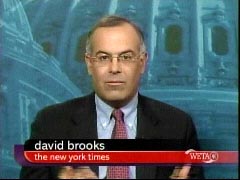 The Huffington Post reported that New York Times columnist David Brooks, the man PBS's "NewsHour" unit selected to represent in some way "conservative" opinion in America, has condemned Gov. Sarah Palin as "a fatal cancer to the Republican Party."
Brooks claimed some conservatives not only scorn liberal ideas, but "scorn ideas entirely," including Palin and President Bush. He also lauded Barack Obama's intellect, recounting a conversation he had with Obama about the intellectual Reinhold Niebuhr: "I was dazzled, I felt the tingle up my knee as Chris Matthews would say."
Many conservative and Republican taxpayers might ask: why are our tax dollars going to Washington to fund PBS, while they select "conservatives" to represent us who hate the politicians we support, and blithely sit around with liberals at pricey restaurants like Le Cirque and complain that those hicks from Texas and Alaska aren't reading enough Niebuhr? Are we going to go to the polls to elect a commander in chief, or a senior fellow in Niebuhr studies?
In Brooks, PBS and the Times have also selected someone who backed the liberal version of McCain against Bush in 2000, writing in Newsweek that we conservative media critics were self-impressed and unthinking: "The movement consciousness is based on the idea that we are a band of brave, beleaguered souls under perpetual assault from the liberal mainstream media. These people detest McCain because liberals don't hate him."
He also said Bush supporters were part of "a conservative movement that has lost touch with mainstream opinion." I doubt he felt a little silly when Bush became president. Here's some of the Brooks proclamations that the Huffington Post enjoyed:
[Sarah Palin's] a fatal cancer to the Republican party. When I first started in journalism, I worked at the National Review for Bill Buckley. And Buckley famously said he'd rather be ruled by the first 2,000 names in the Boston phone book than by the Harvard faculty. But he didn't think those were the only two options. He thought it was important to have people on the conservative side who celebrated ideas, who celebrated learning. And his whole life was based on that, and that was also true for a lot of the other conservatives in the Reagan era. Reagan had an immense faith in the power of ideas. But there has been a counter, more populist tradition, which is not only to scorn liberal ideas but to scorn ideas entirely. And I'm afraid that Sarah Palin has those prejudices. I think President Bush has those prejudices.
Then there's his gooey talk of Obama:
Obama has the great intellect. I was interviewing Obama a couple years ago, and I'm getting nowhere with the interview, it's late in the night, he's on the phone, walking off the Senate floor, he's cranky. Out of the blue I say, 'Ever read a guy named Reinhold Niebuhr?' And he says, 'Yeah.' So i say, 'What did Niebuhr mean to you?' For the next 20 minutes, he gave me a perfect description of Reinhold Niebuhr's thought, which is a very subtle thought process based on the idea that you have to use power while it corrupts you. And I was dazzled, I felt the tingle up my knee as Chris Matthews would say.

And the other thing that does separate Obama from just a pure intellectual: he has tremendous powers of social perception. And this is why he's a politician, not an academic. A couple of years ago, I was writing columns attacking the Republican congress for spending too much money. And I throw in a few sentences attacking the Democrats to make myself feel better. And one morning I get an email from Obama saying, 'David, if you wanna attack us, fine, but you're only throwing in those sentences to make yourself feel better.' And it was a perfect description of what was going through my mind. And everybody who knows Obama all have these stories to tell about his capacity for social perception.

Brooks predicted an Obama victory by nine points, and said that although he found Obama to be "a very mediocre senator," he was is surrounded by what Brooks called "by far the most impressive people in the Democratic party."

"He's phenomenally good at surrounding himself with a team," Brooks said. "I disagree with them on most issues, but I am given a lot of comfort by the fact that the people he's chosen are exactly the people I think most of us would want to choose if we were in his shoes."
David Brooks is nothing like Paul Gigot, who was both a good reporter and conservative idea man as a Wall Street Journal columnist. He's a lot more like PBS's last insult as a "conservative" representative: David Gergen. He's someone who inspires giggles when you reread in him in Newsweek in 2000 claiming "The conservative McCain backers see themselves as rebels against the establishment." Brooks defines the arrogant Manhattan establishment, looking down their snooty noses at the Alaskan moose-hunters. He is only a rebel against the people he's supposedly speaking for on PBS.