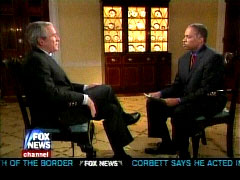 Does National Public Radio have a nose for news? Or a nose that's offended by the scent of President Bush? NPR news boss Ellen Weiss has snubbed an exclusive interview opportunity with President Bush. Washington Post media reporter Howard Kurtz reported Wednesday that the White House offered NPR's Juan Williams an interview on race relations, but NPR didn't want it on its airwaves. So it aired instead on the Fox News Channel.
Williams told Kurtz he was "stunned" by NPR's decision. "It makes no sense to me. President Bush has never given an interview in which he focused on race. . . . I was stunned by the decision to turn their backs on him and to turn their backs on me." Fox was even sharper. "NPR's lack of news judgment is astonishing, and their treatment of a respected journalist like Juan Williams is appalling," said Fox spokeswoman Irena Briganti.
Kurtz added:
Ellen Weiss, NPR's vice president for news, said she "felt strongly" that "the White House shouldn't be selecting the person."She said NPR told Bush's press secretary, Dana Perino, that "we're grateful for the opportunity to talk to the president but we wanted to determine who did the interview." When the White House said the offer could not be transferred to one of NPR's program hosts, Weiss took a pass...

While it is not unusual for the White House to offer a presidential sitdown to a particular anchor or correspondent, Weiss noted that ABC, CBS, NBC, CNN and Fox have all had their anchors interview Bush and that NPR has been requesting such a session for seven years. When Hillary Clinton's presidential campaign last week offered an interview to NPR's health reporter, Weiss said, the network obtained permission to have it done instead by "All Things Considered" host Melissa Block.
Weiss is not entirely correct: Bush never sat down with Dan Rather, for reasons that aren't hard to figure out.
Hillary Clinton is also choosy in hostile media outlets: her only Fox News Channel interviews are with her liberal friend Greta van Susteren. (That doesn't include "Fox News Sunday," which airs on FNC, but is a Fox show.) Fox wouldn't demand that Hillary has to be interviewed by Brit Hume or nobody.
It makes you wonder if NPR's liberal brass is appalled that Williams has a relationship with Fox News, including his defense of Bill O'Reilly in the current news cycle. "I had worked at NPR's direction to develop a relationship with the White House," he told Kurtz. "I have an expertise on race relations. . . . I thought the listeners of NPR lost a tremendous opportunity to hear the president in a rare interview on a very important subject."
Or maybe Ellen Weiss liked the last White House better? After all, she attended state dinners at the Clinton White House with her leftist husband, Rabbi David Saperstein of the Religious Action Center for Reform Judaism.
UPDATE: Captain's Quarters has more, including the transcript.