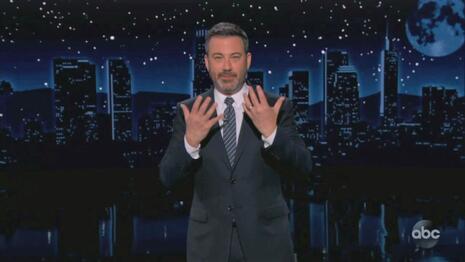 The talentless Jimmy Kimmel on Thursday lashed out at African American Tim Scott for daring to disagree with his contention that the Republican Party is full of bigots. The hack host also seemed to forget how many African American Democrats there are as he slimed Republican Scott.
He sneered, "After the speech an amazing thing happened, every black Republican Senator got together to let the American people know the Republican Party isn't racist." Memo to Kimmel: There may be only one Black Republican. But there's only two Black Democrats (Raphael Warnock and Cory Booker), so not a big difference.
He then played a clip of the senator's response to Joe Biden's address: "By doubling down on the divisions we've worked so hard to heal. You know this stuff is wrong. Hear me clearly, America is not a racist country."
Kimmel implied that he knew more about discrimination that someone who has actually experienced it: "And then Tim promptly returned to the sensory deprivation egg he calls home." The host may actually know a lot about bigotry. After all, he wore blackface back in the '90s.
On the same show, here's Kimmel fawning over Biden's first 100 days:
Today if you haven't been counting is President Biden's 100th day in office. And even his opponents, if they're honest, have to admit, he has accomplished a lot in those 100 days, 43 percent of the population is at least partially vaccinated, the economy is up six percent and our national level of malarkey has dropped to near-historic lows.
Funny stuff, huh? In contrast, the wonderful Biden is "straight out of a Cialis commercial."
It's hard to compare these two [Trump and Biden]. It's like apples and an Orange.... Joe Biden today took a little stroll with the First Lady on the way to Marine One. The helicopter, and he stops and picks a flower for her. Boy, this guy doesn't miss a beat, does he? That was like straight out of a Cialis commercial.
This kind of hackery shows Kimmel is nothing more than a Democrat. Republicans have no reason to watch his show.
The anti-Black Republican hate was sponsored by Subway and Amazon. Click on the links to let them know what you think.
A transcript is below. Click "expand" to read more:
ABC's Jimmy Kimmel Live
04/30/2021 [Taped on 04/29/21]
12:42 a.m. Eastern

JIMMY KIMMEL: Today if you haven't been counting is President Biden's 100th day in office. And even his opponents, if they're honest, have to admit, he has accomplished a lot in those 100 days, 43 percent of the population is at least partially vaccinated, the economy is up six percent and our national level of malarkey has dropped to near-historic lows.

In Trump's first 100 days, he accomplished a lot too. He tweeted that Snoop Dog's career was failing, Nordstrom's was mean to Ivanka, and he was a better host of The Apprentice than Arnold Schwarzenegger. But it's hard to compare these two. It's like apples and an Orange. [ Laughter ] Thank you. Joe Biden today took a little stroll with the First Lady on the way to Marine One. The helicopter, and he stops and picks a flower for her. Boy, this guy doesn't miss a beat, does he? That was like straight out of a Cialis commercial.

(....)

12:44 a.m. Eastern

KIMMEL: After the speech an amazing thing happened, every black Republican Senator got together to let the American people know the Republican Party isn't racist.

TIM SCOTT: By doubling down on the divisions we've worked so hard to heal. You know this stuff is wrong. Hear me clearly, America is not a racist country.

KIMMEL: And then Tim promptly returned to the sensory deprivation egg he calls home. [Polite laughter.] Senator Scott accused Democrats in his rebuttal of using race as a weapon. When the truth is we're more concerned about people using weapons as a weapon. Race would be a terrible weapon. What would you do, melanin a person to death? [Polite Laughter ]