The network and cable networks have been silent on the sex abuse claims against Joe Biden by former staffer Tara Reade. As reported by the Media Research Center's Rich Noyes, ABC, CBS, NBC, MSNBC and CNN avoided the allegations. Now, actress and #MeToo activist Rose McGowan is calling out a celebrity endorser of the former Vice President. In a tweet Monday afternoon, she spoke directly to liberal TV star Alyssa Milano.
McGowan's rage came after Milano tweeted an interview in which she explained why she was still endorsing Biden.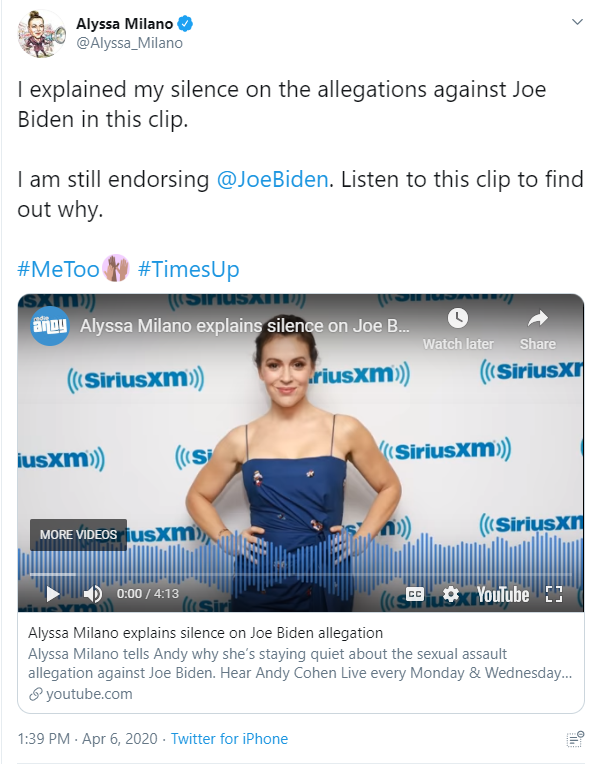 In the interview with Andy Cohen, Milano laughably insisted that the "mainstream media would be jumping all over this… if they found more evidence."
"I believe that even though we should believe women and that is an important thing… that doesn't mean at the expense of not giving men their due process and investigation the situation. It's gotta be fair in both directions…. I'm sure the mainstream media would be jumping all over this if… they found more evidence."
She added, "We're destroying lives if we publicly don't go through the right steps." Well, that's interesting. Milano previously compared then-Supreme Court nominee Brett Kavanaugh to an "animal" during his Senate confirmation hearings. When asked about concerns of false claims, she told Good Morning America's Cecilia Vega on October 15, 2018 that was nothing more than "white men" being worried about losing power:
CECILIA VEGA: One of the arguments that has come out in the wake of that -- we hear it from the president, we hear it from his family, is that boys. They are concerned about boys. They say boys have been wrongfully accused and that stains a person's life. You have a daughter and you have a son.

ALYSSA MILANO: I don't know why their concern isn't that boys could also be hurt and molested and sexually assaulted! I'm of course, concerned for boys, but I'm not concerned for them in the way that I think the president is concerned for men, right? I think that any time something is progressing in a direction that might leave the power away or lead the power away from sort of the 'white man,' they like to use fear tactics, and the way in which to do that is to say, you know, 'I think men have it very hard right now,' and women have had it hard for generations.
Times certainly do change.