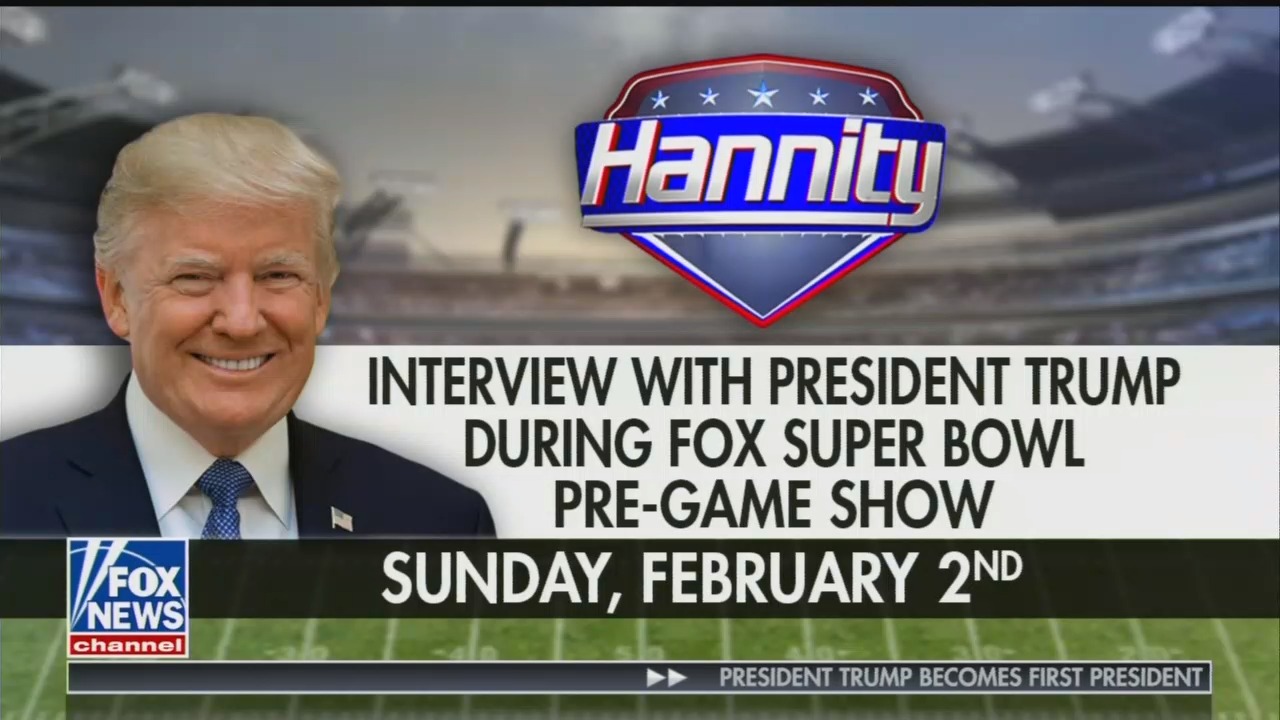 Just prior to the Chiefs taking on the 49ers in Super Bowl LIV, President Donald Trump will sit down with FNC's Sean Hannity for what has become a near-annual pre-game ritual. In 2017, he talked to Bill O'Reilly for Fox. The President skipped it in 2018 and chatted with CBS's Margaret Brennan in 2019. For most of Barack Obama's eight years, the Democrat had the luxury of softball interviews with liberal journalists. (Except in 2011 and 2014 when Fox had the game and O'Reilly got to offer questions.)
Here's a look back at those eight interviews before the big game: In 2016, CBS News assigned This Morning co-host Gayle King, a donor, supporter, and friend of the Obama family, to interview the President and his wife before the Super Bowl. In doing this, the network guaranteed one of the softest interviews in the history of the Democratic administration. Did the liberal media complain about King's close relationship with the Obamas? No.
Asking not one serious question, the journalist instead highlighted her favorite photo of the President and his wife. King also brought up dance moves, relationship issues and Super Bowl predictions.
At one point during the nearly-eight minute segment, the CBS host held up a photograph from the 2009 inaugural balls. She gushed, "I just happen to have this picture here....What were you two thinking? One word? It's one of my favorite pictures of the Obama administration."
Highlighting a film about the 1989 first date between Barack and Michelle Obama, King enthused, "When I think about the Obamas, even your dates make national news. They become news stories."
By contrast, CBS's Brennan grilled Trump during the 2019 interview. For example: "In a CBS poll we just took, 63 percent of Americans say they disapprove about how you're handling issues of race in the US." She highlighted that Senator Tim Scott "said you're racially insensitive."
Back in 2009, Matt Lauer gushed to Obama: "Has there been any surprise in terms about life in the White House? Is there something at the White House that you didn't think they had or doesn't have that you thought they did have?"
The not-yet disgraced Today host continued, "...Not only did you just become president, obviously that carries a certain amount of fame with it. But — but you have achieved a — a certain rock-star status outside of that."
The Super Bowl interview rotates between the networks that carry football (CBS, Fox and NBC). In 2009, Lauer talked to the President. In 2010, then-CBS anchor Katie Couric scored the interview. In 2011, it was Fox News's O'Reilly.
In 2012, Lauer again got the job. In 2013, it returned to CBS and Scott Pelley. In 2014, O'Reilly grilled Obama. The two appearances on Fox constitute rare instances when Obama talked to the network. In 2015, it came back to NBC and Savannah Guthrie. The Today co-host asked some tough questions. She highlighted that critics have called Obama "delusional" and "passive" on terrorism.
But Guthrie also gushed about the excitement of Super Bowl prep: "We are in the White House kitchen where, among other things, you brew beer!" She also wondered, "Have you been following Deflategate and do you have an opinion about whether the Patriots cheated?"
In comparison to Lauer's 2009 performance, Couric in 2010 actually offered tougher questions than her former colleague. She pressed:
A lot of people, including Democrats, wrote to me saying, "You campaigned on a slogan of change you can believe in. But their lives and the ways of Washington," they wrote, "haven't changed at all." What would you say to them?
On February 2, 2014, O'Reilly demanded, "Why do you feel it's necessary to fundamentally transform the nation that has afforded you so much opportunity?" In 2011, O'Reilly chided, "Do you deny that you are a man who wants to redistribute wealth?"
In 2013, CBS's Pelley didn't exactly grill Obama as he casually wondered about taxes: "It was right here in this room two weeks ago today that you took the oath of office for the second time to begin your second term, so let me ask you about the next four years." This led to Pelly mildly wondering, "Are you through raising taxes?"
Before Obama, President George W. Bush talked to sports journalist Jim Nantz for an interview prior to the February 1, 2004 Super Bowl. But those questions were football related. It was Obama who set the precedent of a political, usually friendly interview.
Given the contrast in the way Obama and the current president have been covered, journalists are in no position to complain about Hannity giving Trump an easy interview.