What better Christmas present for Washington Post readers could there be? On December 25, 2008, Post writer Eli Saslow gushed over Barack Obama as a "paradigm of a new kind of presidential fitness." Saslow narrated creepily, "The sun glinted off chiseled pectorals sculpted during four weightlifting sessions each week." Get a room, liberal journalists. 
Speaking of Obama, here is a typical interview. On December 26, 2012, then-View co-host Barbara Walters asked the President about a picture of him hugging the First Lady: "How do you keep the fire going?" 
In contrast, journalists didn't like another charismatic, popular president. On December 28, 1989, a Boston Globe headline said this about the '80s and Ronald Reagan: "The decade had its highs (Gorbachev, Bird)... and the decade had its lows (Reagan, AIDS)." On December 30, 1988, Helen Thomas declared Reagan's legacy to be "an uncaring society" and a "government that was not as concerned."  
Below are Rich Noyes's collected tweets from the 52nd week of This Day in Media Bias History. To get the latest daily examples, be sure and follow Noyes on Twitter. (To see full recaps of the first 51 weeks, go here.) 
Check out NewsBusters tomorrow at 10:30am for the final edition, a New Years Day look back at the WORST of the worst from This Day in Media Bias History. 
December 22: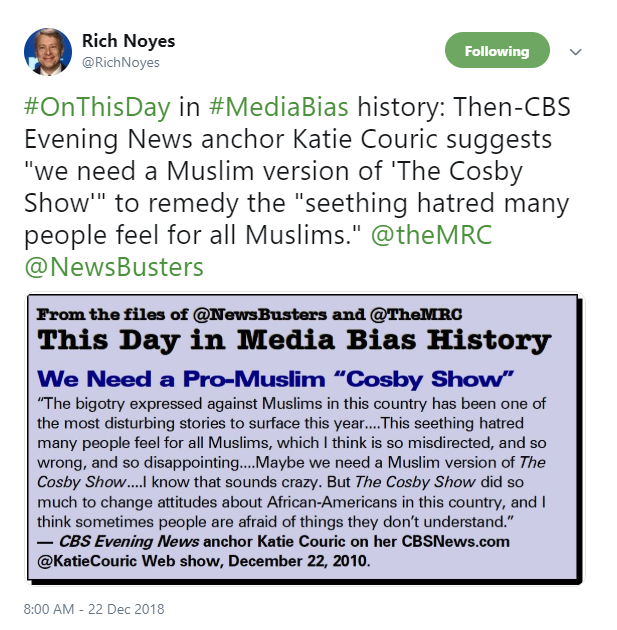 December 23: 

December 24: 

December 25: 

December 26: 

December 27: 

December 28: 

December 29: 

December 30: 

December 31: