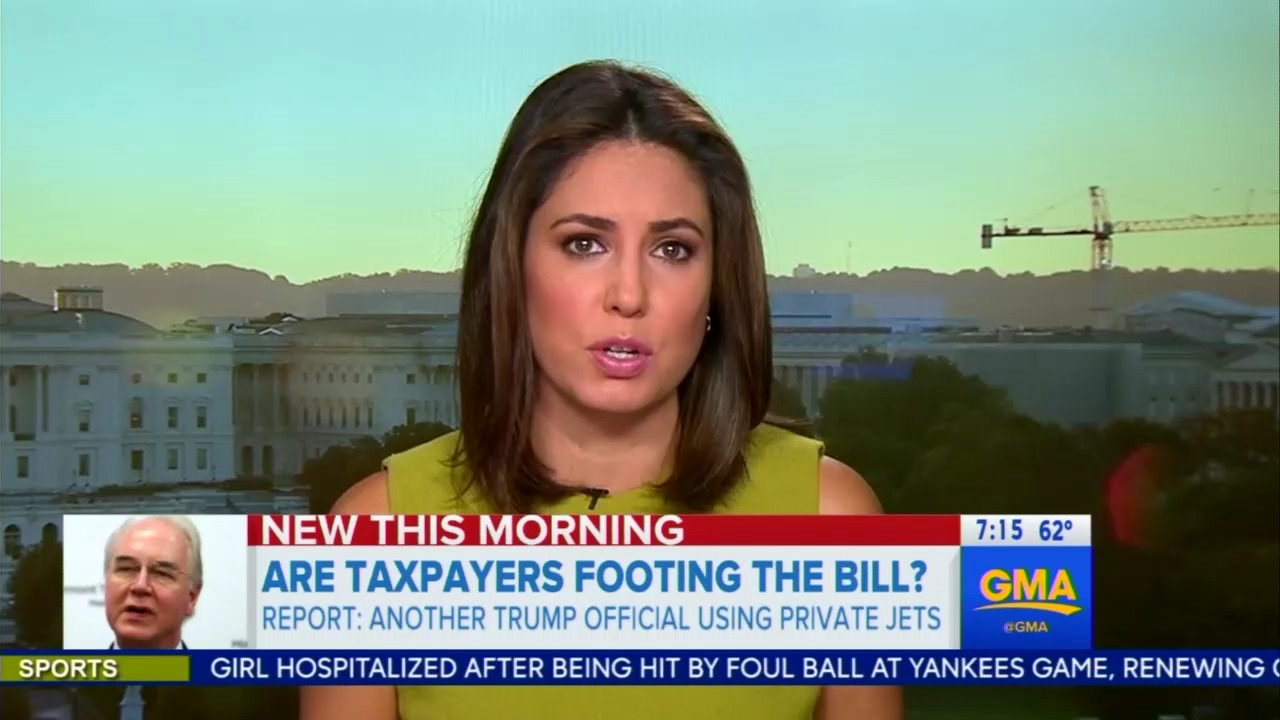 ABC's Good Morning America spent two-and-a-half minutes on Thursday morning regurgitating much of a Politico story about HHS Secretary Tom Price's use of private planes for travel last week. Co-host George Stephanopoulos said Price was "facing questions about his flights," while correspondent Cecilia Vega scolded that the flights "racked up a price tag in the tens of thousands of dollars."
Vega included a sound bite from House Democratic Leader Nancy Pelosi chastising Price: "It's  just not right. It's just not right," and served up this softball to another Democrat, Michigan Senator Gary Peters: "Is tens of thousands of dollars in spending on private planes a good example of spending government money?"
But during the Obama years, Good Morning America had no problem with then-First Lady Michelle Obama spending far more on a vacation to Spain with her daughters. According to records later obtained by Judicial Watch, the cost to the Air Force to carry Mrs. Obama and her children to Spain was $213,124.15, most of which ($199,323.75) was the flight itself, with the rest spent on housing and feeding the 15-member flight crew while they were in Spain.
As NewsBusters' Scott Whitlock noted at the time, ABC's segment included some grand excuse-making by commentator Cokie Roberts, who suggested the expensive trip would help Sasha Obama improve her Spanish-language skills: "You know, politically, it was not a smart move. But in the grand scheme of things, what real difference does it make? I would guess that Sasha is probably learning some Spanish. Maybe she learned  a little more Spanish on her trip."
According to the Politico report, published yesterday, between September 13 and 15, Price visited two community health centers, and engaged in a Q & A event with a health industry CEO in Maine, all of which seems pertinent to Price's job. While there may have been cheaper options for Price's travel, the price tag seems extremely puny compared with the $2.3 trillion in potential spending cuts identified earlier this month by Citizens Against Government Waste — a report which was granted zero coverage on ABC.
With the important news of the devastation caused by Hurricane Maria in Puerto Rico, and the deadly earthquake in Mexico City, CBS This Morning thought the Price story deserved only 18 seconds, while NBC's Today skipped it entirely. ABC's biased reporting was supported by advertising from (among others) LasVegas.com, Target and Tums.
Here's the transcript of the September 21 Good Morning America segment, which aired at 7:16am ET:
GEORGE STEPHANOPOULOS: We're going to move on now to another Cabinet Secretary for President Trump facing questions about his flights. Health Secretary Tom Price chartered five private jets just last week and our senior White House correspondent Cecilia Vega is in Washington with more and, Cecilia, on this front, this is official government travel, which means it's paid for by the taxpayers unless the Secretary finds another way to reimburse the government.

CECELIA VEGA: Yeah, exactly, George. These trips racked up a price tag in the tens of thousands of dollars, and it is not just the Health Secretary that we are talking about here. Three members of the Trump administration are now under scrutiny for their travel. Health Secretary Tom Price this morning facing tough questions about why he needed to fly on private jets to conduct official government business.

HHS SECRETARY TOM PRICE (March 29 congressional hearing): The American people need to know that their tax dollars are being spent wisely.

VEGA: A fiscal conservative and former member of Congress who once tweeted, "Congress doesn't need to have private jets." But according to Politico, Price took an unprecedented five different flights on privately-chartered planes last week alone, and the organizations he visited tell ABC News, they did not foot the bill. One of those trips, a short 30-minute ride to Philadelphia — $10,000 round trip on a private plane, compared to about $700 on a commercial flight, and less than $300 on the train.

REP. NANCY PELOSI: It's just not right. It's just not right.

VEGA: Democrats now calling for an investigation. [to Senator Gary Peters] Is tens of thousands of dollars in spending on private planes a good example of spending government money?

SEN. GARY PETERS (D-MI): It's not a good example of spending money. It's something we need to investigate. It's an example of wasteful spending in my mind.

VEGA: Price makes for the third member of the administration whose travel is under scrutiny. Environmental Protection Agency investigators are looking into Secretary [sic, actual title is Administrator] Scott Pruitt's frequent trips to his home state of Oklahoma, taxpayers footing the bill. And the Treasury Department is reviewing Secretary Steve Mnuchin's flight to Kentucky on a government jet, a trip where he and his wife viewed the eclipse. Mnuchin also requested a government plane to fly him and his new bride on their overseas summer honeymoon, but he withdrew that request after being told it would look bad.

So, as for Health Secretary Price's private jet travel, the White House is not commenting, but a Health and Human Service department spokesperson says Price has a demanding schedule. They say they're trying to maximize his time and while they do check commercial travel availability, George, quote, commercial travel is not always feasible, they say.

STEPHANOPOULOS: We'll see if they get more questions on that. Okay, Cecilia, thanks very much.