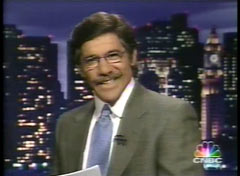 To commemorate the Media Research Center's 20th anniversary this month, we've just published a
special expanded edition
of our 'Notable Quotables' newsletter with more than 100 of the most outrageous, sometimes humorous, quotes we've uncovered over the past 20 years. To wrap up this week's posts, I thought I'd list a few of the most outrageous or moronic quotes we've come across since 1987.
For sheer wackiness, it's hard to top then-CNBC anchor Geraldo Rivera, who sang his disdain for independent prosecutor Kenneth Starr during the height of the Lewinsky scandal, July 21, 1998, on his Rivera Live program, to the tune of "Twinkle, twinkle, little star."
Video (0:37):
Windows
(1.22 MB), plus
MP3 audio
(150 kB).
"Twinkle, twinkle Kenneth Starr, now we see how crude you are / Up above your jury high, like the judge up in the sky / Twinkle, twinkle little Starr, now we see how wrong you are / When you drag the agents in, when you bully moms and kin / Then you kiss the treacherous Tripp, twinkle, twinkle DC drip / Twinkle, twinkle little Starr, now we see how small you are."

A few days later, on his August 6, 1998 show, Rivera again erupted against Starr and declared his love for Bill Clinton:
"Mr. President, we love you. I want to hug you, I want to hug you, please do the right thing. This is nothing, this is nothing. Thomas Jefferson did not have this in mind, I swear to God....I would give Ken Starr the Nobel Peace Prize were he to be man enough not to refer a sex lie to the House for impeachment."

Now, some other ridiculous/infuriating quotes from the MRC's archives:
"It's a morbid observation, but if everyone on Earth just stopped breathing for an hour, the greenhouse effect would no longer be a problem."
-- Newsweek Senior Writer Jerry Adler, December 31, 1990.

"By American presidential standards, Mikhail Gorbachev accomplished enough in his seven-year term to qualify for a bust on Mount Rushmore."
-- NBC's Jim Maceda, December 25, 1991 Nightly News.

"Corporations pay public relations firms millions of dollars to contrive the kind of grass-roots response that Falwell or Pat Robertson can galvanize in a televised sermon. Their followers are largely poor, uneducated, and easy to command."
-- Washington Post reporter Michael Weisskopf in a February 1, 1993 news story.

"I hope his wife feeds him lots of eggs and butter and he dies early like many black men do, of heart disease....He is an absolutely reprehensible person."
-- USA Today columnist and Pacifica Radio talk show host Julianne Malveaux on Justice Clarence Thomas, November 4, 1994 PBS's To the Contrary. [Video (0:18): Windows (573 kB), plus MP3 audio (94 kB)]

"It is liberalism, whether people like it or not, which has animated all the years of my life. What on Earth did conservatism ever accomplish for our country?"
-- Charles Kuralt talking with Morley Safer on the CBS special, One for the Road with Charles Kuralt, May 4, 1994.

"Crime Keeps On Falling; but Prisons Keep On Filling."
-- September 28, 1997 New York Times headline over Week in Review article.

"So, I'm getting less chips, paying the same amount of money. Is that legal for them to do this?"
-- CBS's Julie Chen questioning Carol Foreman Tucker of the Consumer Federation of America about companies charging the same price for smaller snack food packages, January 3, 2001 Early Show.

"Seven years ago, when the last referendum took place, Saddam Hussein won 99.96 percent of the vote. Of course, it is impossible to say whether that's a true measure of the Iraqi people's feelings."
-- ABC's David Wright in Baghdad, on World News Tonight, October 15, 2002.

"If she had lived, Mary Jo Kopechne would be 62 years old. Through his tireless work as a legislator, Edward Kennedy would have brought comfort to her in her old age."
-- Charles Pierce in a January 5, 2003 Boston Globe Magazine article. Kopechne drowned while trapped in Kennedy's submerged car off Chappaquiddick Island in July 1969, an accident Kennedy did not report for several hours.

To read the full issue, and watch any of the 50 video clips that accompany the issue, please visit
www.MRC.org
.