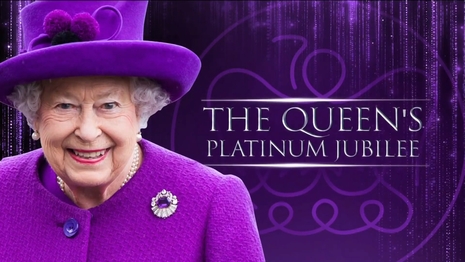 WASHINGTON — Take a break from the news. From the stories of war in Ukraine, slaughter of schoolchildren in Texas and mayhem against minorities in Buffalo, New York. Turn your attentions at least temporarily to consider Queen Elizabeth II's Platinum Jubilee, celebrating her 70th year on the throne. Did you see those gorgeous pictures of the royal family across the front page of most of the weekend newspapers? Tell me the royal family is not the best-dressed family in the world!
The queen looked spectacular. Her body might have been creaking at the joints and betraying symptoms of strain, but you would not know it to look at her. Moreover, those bonnets worn by the royals on the balcony at Buckingham Palace were sensational. They are called bonnets, are they not? If the presence of those hats on the queen and her princesses does not start a craze among the women of America, I shall eat my hat. No, wait a minute! That goes too far. Let me merely say that I shall be surprised.
Later in the queen's four-day celebration, she had to bow out occasionally, owing to her "experience" of "some discomfort," but at age 96, I think she is allowed some dispensations. She has earned them, but Prince Charles took up the slack, and he, too, looked quite smart in his resplendent medals — row upon row of them — and gold braid across the chest and crimson tunic. He is rumored to frequent my tailor in London, but if he ever donned such attire upon visiting the shop at Anderson & Sheppard, I am sure I would remember it. At any rate, in the stunning pictures at Buckingham Palace, he looked every inch a king, and I am certain he will do just fine whenever he gets the nod. King Charles III, the title suits him well.
It is apparent in walking the streets of America that dressing up is not considered very important here anymore. The men dress like little boys, wearing short pants and T-shirts. I half-expect some of them to be throwing around Frisbees or flying kites or skateboarding. The women dress better but only slightly. Yet, American women have always dressed better than American men, at least before feminism took hold.
However, to return to Queen Elizabeth II, she has played her role for 70 years and played it well. There have been difficult times for her. Prince Charles' first marriage did not end well. Princess Margaret was an ordeal, and Prince Andrew's love life has at least been controversial. Her two grandsons have presented her with moments of acidosis -- at least, Harry has. There was that episode with the Nazi uniform, or was it only a fascist jumpsuit? A future clamaint to the throne of Great Britain playing the role of one of his country's greatest enemies! That did not go over very well with the tabloids. Harry and Meghan chose the right locale to move to. They will enjoy California, and at least half the state will enjoy them. Perhaps they will open a string of fish and chips shops or a string of weight-lifting gymnasiums. They are going to have to earn their keep, are they not?
The queen has lived an exemplary life through it all. She has been a rallying point for the whole British nation — and has influenced our land, too. This weekend, I saw flags flying with her visage adorning the Union Jack. There are some on the left who say the crown should be abolished, but what would they put in its place? They have no answer for this. It is like those leftists in America who keep urging the removal of statues that at least are an attraction for tourists. I am told that in San Francisco, they would even remove statues of George Washington and Abraham Lincoln. What would the British leftists put in the monarchy's place? Would they put a shopping center where Buckingham Palace now stands and a parking lot in place of Windsor Castle?
The queen was born to great wealth and status, but she could have shirked her obligations. Or she could have abdicated. Instead, she accepted a life dedicated to duty and dignity. That is what one reads about her. I am sure that Prince Charles will accept this commitment to duty and dignity, too, when he is called to the throne. It would have benefited our country if recent presidents had followed such an austere calling.
Glory to Ukraine!