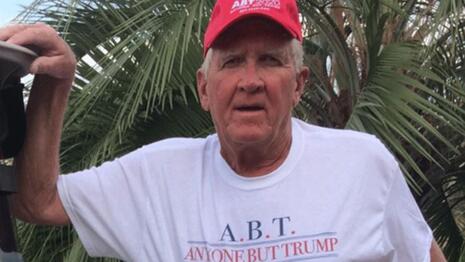 And from the latest chapter of the amazing adventures of Florida Man we have the case of the TDS Florida Man arrested for stalking a woman for the "sin" of wearing an anti-Biden shirt.
His name is Ed FMcGinty acquired a bit of liberal-media fame a year ago as a rare anti-Trump voice in the conservative-oriented town named The Villages Politico hailed McGinty in September 2020 as a potential sign that seniors were turning against Trump in the Sunshine State (note: Trump won Florida in 2020 by a margin of almost three times his 2016 victory).
Ed McGinty, who moved from the Philadelphia suburbs to The Villages in 2015, has become the poster child for a Democratic resonance in the conservative stronghold. He has gotten national attention recently of holding anti-Trump signs along the roadways and golf cart paths that run through the massive development.
Earlier in the year, the Washington Post devoted an entire article to their hero, "Meet the 71-year-old staging a one-man protest in his Trump-loving retirement community."
McGinty devotes about two hours a day to protesting, crashing rallies planned by the Villagers for Trump group and parking his golf cart in well-trafficked areas where people are most likely to see his signs: "TRUMP BIGOT AND RACIST," "TRUMP IS A SEXUAL PREDATOR" and "TRUMP COMPULSIVE LIAR." He said he rotates between about 30 posters carrying various anti-Trump sentiments. He sits in his cart reading while he puts them on display, enjoying the confrontations that follow.
Now, McGinty thinks it's only okay if you wear anti-Trump garb such as he does. If not, then it is permissible to not only stalk the person but also threaten to dox her as McGinty did in his case, which was covered by the newspaper of The Villages in Florida as you can see in this Saturday report of his arrest.
A Villager banned from a swimming pool after a political argument with a fellow resident has been arrested on a stalking charge.

Ed McGinty of the Village of Hadley was booked at 9:32 p.m. Friday at the Sumter County Detention Center. He was released at 5:15 a.m. Saturday after posting $5,000 bond.

McGinty was banned from the Village of Hadley pool on Thursday after a reportedly vulgar argument with a woman who arrived at the swimming pool wearing a T-shirt that proclaimed "Joe Biden Sucks." McGinty, a well-known anti-Trumper who was at the pool with his golf cart, allegedly called the woman a "pig."

McGinty has long been a controversial political force in The Villages, often parking his golf cart, adorned with anti-Trump signs, at prominent locations in The Villages.

McGinty allegedly went twice on Friday to the home of the woman with whom he had argued at the swimming pool. The arrest report from the Sumter County Sheriff's Office was not available over the weekend.
Ironically, the strongest evidence against him comes from his own highly self-incriminating tweets.
I was arrested Friday night and spent 8 hours on a cold concrete slab for peacefully protesting in front of a persons house, who had been stalking me. Talk about Nazi Party. It lives in the villages Florida. Proof three bus they told me went 1/6/21 pic.twitter.com/31aHTUP4vT

— Ed McGinty (@WinterwayEd) September 26, 2021
The woman in Red her shirt reads Biden Sucks. I protested verbally that she take it off or I would take a picture and post it so her grandchildren would see it. The six trump supporters complained and the police banned me from the pool pic.twitter.com/1lDzvR7KmZ

— Ed McGinty (@WinterwayEd) September 23, 2021
So why would McGinty be so clueless as to publicize his own guilty acts? Hey, he is Florida Man...the TDS version. The very type of Florida Man the media seems to love to hype.