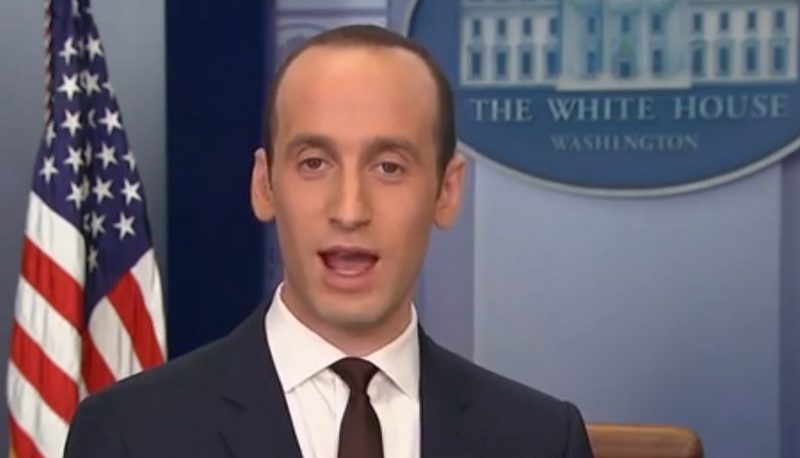 Did you have a sloppy desk in the third grade? Well, that shocking fact would probably be revealed to the world if you happen to be a White House aide for President Donald Trump. 
On October 10, the Hollywood Reporter published one of the great journalistic coups of our era. They tracked down Nikki Fiske, the third grade teacher of White House aide Stephen Miller and she revealed that he had, wait for it, a sloppy desk. Okay, maybe he was a good student, as his teacher conceded, but that was overshadowed by the fact that he POURED GLUE ON HIS ARM!
This recollection is a sad rerun of a silly June piece in Politico magazine by third-grade classmate John Muller, who also had an intense desire to inform the nation that little Stephen had an obsession with glue: "He liked to pour it into his hands, forming grime-tinted glaciers in the valleys of his palms."
His teacher Fiske summons up her repressed memories and  takes us back in time to the desk of horrors as told to Benjamin Svetkey:
Do you remember that character in Peanuts, the one called Pig Pen, with the dust cloud and crumbs flying all around him? That was Stephen Miller at 8. I was always trying to get him to clean up his desk — he always had stuff mashed up in there. He was a strange dude. I remember he would take a bottle of glue — we didn't have glue sticks in those days — and he would pour the glue on his arm, let it dry, peel it off and then eat it.
Oh, the horror!
I remember being concerned about him — not academically. He was OK with that, though I could never read his handwriting. But he had such strange personal habits. He was a loner and isolated and off by himself all the time.
Okay, so he was a good student but that pales in importance to his sloppy desk.
At the end of the year, I wrote all my concerns — and I had a lot of them — in his school record. When the school principal had a conference with Stephen's parents, the parents were horrified. So the principal took some white-out and blanked out all my comments. I wish I could remember what I wrote, but this was 25 years ago.
A coverup?! If only his teacher's concerns about the sloppy desk had not been whited-out the world would have been aware of what an eight year-old cad Miller was. Perhaps it would even have been enough to have kept Trump out of the White House.