Generalissimo Francisco Franco is still dead! But is Presidente Hugo Chavez of Venezuela still alive? In what might be a case of life imitating art, could the vice-president of Venezuela be attempting to replicate "Weekend At Bernie's?" To refresh your memory of that entertaining comedy movie, two young insurance executives are desperate to maintain the fiction that their boss, Bernie, is still alive at his beach house. The Venezuelan vice-president, Nicolas Maduro, is now ruling Venezuela in Hugo Chavez's absence especially since he was given the blessing as El Commandante's successor in December when we knew for sure that Chavez was still alive. However, the big question is if Chavez is still alive.
The Associated Press seems to think so based on their story that Chavez signed a decree naming a new Venezuelan foreign minister. However, the AP missed that the decree stated that it was signed on January 15 in Caracas (yellow highlight in photo below the fold) when we know that Chavez (or his body) has been in Cuba for weeks. Here is the AP report that failed to note this big descrepancy:
CARACAS, Venezuela (AP) — Venezuela's government has published a decree signed by President Hugo Chavez, while his vice president said Wednesday that the ailing leader also sent a message of gratitude to the military for its loyalty.
It was the first time the president's signature has appeared in the Official Gazette since his latest cancer surgery in Cuba more than five weeks ago. The decree issued Tuesday and published in the government newspaper on Wednesday names former vice president Elias Jaua as Venezuela's new foreign minister. The signature is printed along with the presidential stamp.
So AP noticed that the signature was printed along with the presidential stamp yet they somehow didn't notice WHERE (Caracas) it was supposedly signed?
And now we come to the fun part of Weekend at Hugo's. Here are the basic plot elements and characters:
Vice President Maduro can rule in the place of Chavez only as long as the latter is still alive. If it is proven that Chavez has died then the Speaker of the National Assembly in Venezuela, Diosdado Cabello, automatically becomes interim president until new elections are called within 30 days. That means Vice President Maduro is out and Cabello is in despite the blessings given to Maduro by Chavez. So in order for Maduro (and his Cuban allies) to prevent this from happening is to make sure that Hugo Chavez remains alive or appears to remain alive in Cuba like Bernie in "Weekend At Bernie's."
Mr. Cabello's task in the meantime is to prevent being ousted as Speaker of the National Assembly by Mr. Maduro. Since Cabello has the strong backing of the military in his country, I strongly recommend that he surround himself with army troops at all times in order to prevent arrest on corruption charges on orders of Maduro. Since just about the entire Chavista power structure in Venezuela is completely corrupt, it wouldn't be difficult to make those charges which is why Cabello might be wise to order the arrest soon of Maduro on exactly the same charges since both are fully guilty of this universal Chavista crime.
Right now the pressure might be a bit greater on Maduro since, if Chavez is already dead, he is the one who must struggle to maintain the pretense that El Commandante is as alive as Bernie. The upside to this dilemma and power struggle in Venezuela is that it could provide great movie material, with a political twist, for fans of "Weekend of Bernie's" and its sequel who need another comedy fix.
FLASH!!! Your humble correspondent has a NewsBusters exclusive in the form of the photo below that purports to be Hugo Chavez signing a document in Cuba.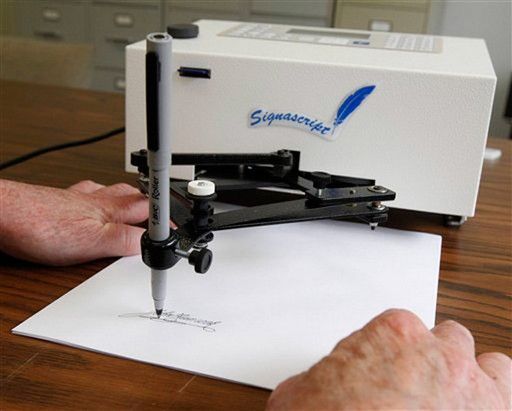 And finally a humanitarian appeal to the prison officials of a future Venezuelan government to allow prisoners Maduro and Cabello to view a screening of that comedy hit, "Weekend At Hugo's." He may be dead...but he's the life of the socialist party!