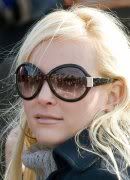 One has to hand it to Meghan McCain. She has certainly found the perfect shtick for extending herself beyond her allotted 15 minutes of fame. And the method Meghan has discovered is to slam conservative Republicans. That is her meal ticket to getting invites on cable news shows such as Larry King and, "OMG," she is also going to be guest co-host of The View for a couple of days this week. Think any of these invitations would have materialized had Meghan urged Republicans to become more conservative? If that were to happen all those TV appearances plus her new book deal would dry up more quickly than a drop of water in Death Valley.
One important measure of Meghan McCain's "success" is that she is now being quoted favorably in the Huffington Post.  HuffPo blogger, Sam Stein, expressed his approval of her in his latest blog post: Meghan McCain: "Old School" Republicans Are "Scared Sh--less."
Speaking to an affectionate crowd of Log Cabin Republicans on Saturday evening, Meghan McCain ridiculed the party her father headed this past election, declaring that "old school Republicans" were "scared shitless" of the changing landscape.
Yup! You're on the right track, Meghan. Ridiculing Republicans, especially if they are conservatives, is the key to garnering MSM approval as well as applause from leftwing sites such as the Huffington Post. You are doing so well in this regard that Sam Stein continues with his effusive praise:
The Senator's daughter, who has quickly become something of an iconic figure in the gay conservative community since the end of the election, took repeated shots at the GOP for its antiquated mores.
 "I feel too many Republicans want to cling to past successes," said McCain. "There are those who think we can win the White House and Congress back by being 'more' conservative. Worse, there are those who think we can win by changing nothing at all about what our party has become. They just want to wait for the other side to be perceived as worse than us. I think we're seeing a war brewing in the Republican Party. But it is not between us and Democrats. It is not between us and liberals. It is between the future and the past."
I guess Meghan missed that part of her history lesson that demonstrated that Ronald Reagan won by landslides twice precisely by being 'more' conservative. Of course, Meghan also indulged in the almost obligatory slams against Ann Coulter and Rush Limbaugh:
The remarks, delivered at the Log Cabin Republican's national convention in Washington D.C., drew healthy applause and the occasional high-pitched whistling. McCain, at one point, declared herself a proud member of the GOP. But her pot shots at the Republican Party and its flashier figures were not thinly veiled. Describing her public tiff with Ann Coulter as non-delicate, she went on to refer to the brash conservative talker as "overly partisan and divisive." Later in the speech she insisted that "most of our nation wants our nation to succeed" - a pretty clear dig at the now-infamous remarks of talk radio host Rush Limbaugh.
I do want to make an apology to Sam Stein. I thought the title of his blog was just his over-the-top interpretation of what Meghan McCain said. Well, I subsequently checked her speech to the Log Cabin Republicans and she actually did indulge in the vulgarism:
People in our country have much more important issues to deal with on a daily basis. But the experience did reinforce what I learned on the campaign trail in some major ways.

I'll summarize them in three points:

Most of our nation wants our nation to succeed.
Most people are ready to move on to the future, not live in the past.
Most of the old school Republicans are scared sh--less of that future.
An important part of Meghan's "stay in the limelight" shtick is her insistence that while she is "progressive" on social issues, she remains a Republican because she believes in less taxes and less government spending. Okay, so what recent major event was about less taxes and less government spending? If you answered "tea parties" you would be right. Well, despite the fact that Meghan seems to twitter about just about every subject under the sun, how many times do you think she has mentioned the terms "tea party" or "tea parties" on Twitter? The correct answer is "none" despite the fact that tea parties were all over the nation and on the news. In fact, Meghan, despite her expressed "concern" for less taxes and less government spending, seems to go out of the way to avoid the subject of tea parties even though she had several requests on Twitter to comment on the subject:
vcfemerald: @McCainBlogette what did u think about the tea party tonite

 

 

 

lauracope

:

@McCainBlogette what do you think of these National Tea Parties? i'm all about public demonstrations but wonder about their efficacy...
Of course, any positive response from Meghan to the tea parties would jeopardize her self-promotion tour in the MSM which is why there has been no response from her.