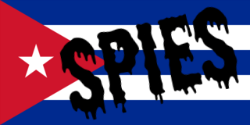 The Miami Herald has reacted to charges that one of its opinion page contributors was a Cuban espionage agent with an article that is both low in substance and high in anger. The background to this story, about how the media is using "expert" analysis from professors identified by the U.S. government as Cuban spies, was reported last Tuesday in NewsBusters by Lynn Davidson. This is Davidson's description of that Herald opinion page contributor:
Marifeli Perez-Stable is a Florida International University sociology professor, a Council on Foreign Relations member and a media darling who sees Cuba in a "different light." She contributes to the Miami Herald and has written for the Washington Post as well as several foreign papers. She is a vice president for democratic governance at the Inter-American Dialogue and chaired the Ford Foundation-funded Task Force on Memory, Truth and Justice, which issued the 2003 report "Cuban National Reconciliation."
The Miami Herald's Alfonso Chardy jumped to the defense of Perez-Stable by claiming the charges against her "offered no conclusive evidence" (emphasis mine):
A veteran spy catcher's appearance on Spanish-language TV in Miami has added fuel to the decades-long debate about the Castro government's interest in spying in South Florida.

Lt. Col. Chris Simmons, an Army Reserve counterintelligence officer and former Defense Intelligence Agency counterintelligence analyst, named Marifeli Pérez-Stable, Gilberto Abascal, Alberto R. Coll and Gillian Gunn Clissold as agents for the Cuban government.

But Simmons offered no conclusive evidence that any of the four -- who have denied the accusation -- gave classified information to Cuba, received intelligence training or undertook missions for Cuban intelligence.
No conclusive evidence? Perhaps Chardy should have listened to the Babalu Radio Hour interview of Simmons conducted by Henry Gomez of Herald Watch last Wednesday. This is what Simmons had to say about Perez-Stable:
Most importantly for me, at the end, was I had access to a colleague who debriefing, a recent debriefing of a former DI officer who was working what is called M-1 U.S. targets. But most specifically, he worked the academic section of U.S. targets and in the early first half of the 1990s, now this is the critical part because she says that her support of the regime ended back in the eighties. Her [Cuban] case officer recalled meeting with her in Ottawa, Canada, in mid 1991, and she was still an active agent of Cuban intelligence. So, no matter how she tries to spin, spin it that this may have been an indiscretion of her youth, I got the notes from her case officer who outed her. So, her usefulness to the regime ended when that second officer stepped forward.
So as of mid 1991, Perez-Stable was still "an active agent of Cuban intelligence," according to her own case officer. This runs counter to Perez-Stable's claim that she quit supporting the Castro regime at a much earlier point:
''I'm sick and tired of these McCarthyite tactics,'' Perez-Stable said in an e-mail to The Miami Herald. ``I supported the Cuban revolution in the 1970s. Over the course of the 1980s, I had a change of heart. I have now been a vocal opponent of the Cuban government for longer than I ever supported the revolution.''
"McCarthyite tactics?" That is the standard reaction of leftists caught spying for communist governments. I'm surprised she didn't mention "witch hunts" but that oversight was ameliorated by a very angry Herald editorial page editor:
Joe Oglesby, editor of the Herald's editorial page, defended Pérez-Stable.

''This is nothing more than a witch hunt,'' he said. ``This is character assassination and these issues have been raised and dealt with in the past.''
Actually, Joe, no. You have not dealt with this in the past nor in the present. Despite the testimony of her former Cuban case worker who outed Marifeli Perez-Stable, she still contributes to the Miami Herald opinion page where she continues to shill for the Cuban regime as you can read in her latest column published on July 31:
What's pending is for Washington and Havana to learn to live in peace, that is, to settle into a mutually beneficial relationship. Along the way, the United States should gain a consideration of Cuban sensibilities. Cuba, meanwhile, needs to turn geographic nearness into an asset. The 50-year enmity hasn't served either country well.
So that is an example of how Perez-Stable claims to be a "vocal opponent" of the Cuban government? Perhaps the Miami Herald might want to consider resurrecting Kim Philby or Klaus Fuchs from the dead and hiring them  as opinion page contributors.
H/T: Henry Gomez of Herald Watch.