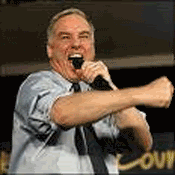 It has been less than a day since Tropical Storm Dean has developed into a hurricane and already global warming is being mentioned in a news story about this weather development. Credit for the first known citing of global warming in a Hurricane Dean story goes to The Daily Green. Correspondent Chris Mooney starts out by giving his story, Nothing But Land to Stop Hurricane Dean … or Supertyphoon Sepat, an authentic all caps touch with  this weather advisory from the National Hurricane Center:
BASED ON WHAT WE THINK WE KNOW ABOUT INTENSITY CHANGE … THERE DO NOT SEEM TO BE TOO MANY INHIBITING FACTORS TO A FUTURE INTENSIFICATION OF DEAN. GLOBAL MODELS UNANIMOUSLY DEVELOP A LARGE UPPER-LEVEL ANTICYCLONE NEAR THE CENTER OF THE HURRICANE AS THE SYSTEM TRAVELS INTO THE CARIBBEAN SEA. IN COMBINATION WITH VERY DEEP WARM WATERS … THIS PATTERN WOULD FAVOR THE DEVELOPMENT OF A POWERFUL HURRICANE.
From this promising beginning, Mooney quickly descends into the global warming blame game:
Very few hurricanes achieve their maximum potential intensity, but some do. For this reason, maximum potential intensity theory is a leading reason for believing that global warming should cause the average hurricane to strengthen. Climate change is expected to increase the maximum potential intensity, period. And if it does so, then those storms that achieve their maximum potential will be achieving a higher one than before. By these lights, as global warming sets in we ought to see hurricane intensity records breaking across the globe...
Growing up in South Florida, I used to enjoy tracking hurricanes on maps provided for that purpose by the Miami Herald. However, my interest has changed in recent years. I now prefer to track how many reporters cite global warming whenever new hurricanes develop. So far, Chris Mooney is the first reporter tracked citing global warming in a news story about Hurricane Dean. I have every confidence many more reporters will follow in Mooney's footsteps as Hurricane Dean continues to develop. Global warming hurricane reporter tracking maps will be provided exclusively here on NewsBusters.