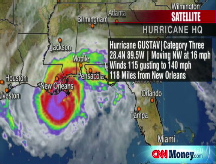 For almost a week, practically foaming at the mouth media members scared the heck out of the American people presaging doom and gloom in New Orleans as well as rising oil and gas prices all at the hands of a hurricane that hadn't even entered the Gulf of Mexico yet.
Of course, let's not forget the reports about Hurricane Gustav destroying the Republican National Convention thereby damaging John McCain's chances of winning the White House.
Now, as Gustav has been down-graded to a tropical storm, having caused less damage in New Orleans than anyone anticipated, America is quickly getting back to normal likely much to the disappointment of those on the left and in the media that hoped for a replay of Hurricane Katrina weeks before Election Day.
And, as Bloomberg reported Tuesday, energy prices are plummeting (photo courtesy CNN Money):
Crude oil led a decline in commodities as Hurricane Gustav spared the U.S. Gulf states the destruction caused by Katrina and Rita in 2005.

Oil slid to a five-month low and gasoline plunged as much as 13 percent, easing concern that inflation will choke global economic growth and pushing copper, gold and soybeans lower. The dollar's rally to the highest level in almost seven months against the euro hurt commodities priced in the U.S. currency.

``Gustav was much tamer than it might have been, and that led to a drop in oil, which triggered a commodity sell-off,'' said William O'Neill, a partner at Logic Advisors in Upper Saddle River, New Jersey. ``Across the board, it's bad news for commodities, and that's changing the money flow. Commodities have fallen out of fashion with investors.'' [...]

Crude-oil futures for October delivery fell $7.04, or 6.1 percent, to $108.42 a barrel at 11:42 a.m. on the New York Mercantile Exchange. Earlier, the price touched $105.46, the lowest since April 4.

Natural gas for October dropped 68.5 cents, or 8.6 percent, to $7.258 per million British thermal units.

Gasoline futures for October tumbled 31.99 cents, or 11 percent, to $2.69 a gallon. Earlier, the price touched $2.6082, the lowest since April 1.
This is all spectacularly good news for consumers battling with high prices at the pump, and concerned about their heating bills this winter. The only question is how much focus this will get today and this evening as Republicans move forward with their convention.
After all, will media that were hoping to present dreary, gut-wrenching images of Gustav's wrath in order to destroy the GOP's festivities in Minneapolis-St. Paul be willing to share the great economic news with the populace as the President addresses the convention via satellite, and folks like Laura Bush, Joe Lieberman, and Fred Thompson rally the troops during prime time?
Stay tuned.